Tascam Announces DR-1 Digital Recorder
Tascam has announced the DR-1 Portable Digital Recorder, a compact unit that captures hours of music using built-in mics to its 1GB SD card. A pair of condenser microphones is mounted on a variable angle mechanism, which allows the recorder to record from almost anywhere. The unit includes a 1GB SD card for hours of recording at MP3 or WAV file formats. The DR-1 also includes auto gain control and analog limiting for easy setup and a low-frequency cutoff to eliminate handling or wind noise.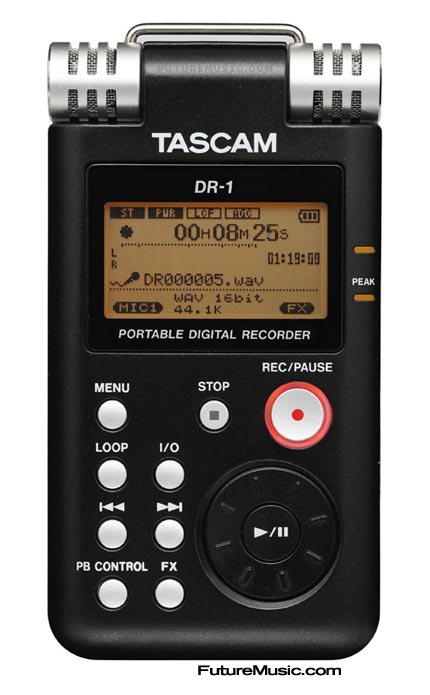 Features:
• Portable, Handheld Recording
• Included 1GB SD card media
• Built-in High-quality Stereo Condenser Microphone
• Variable Angle Microphone Mechanism with A/B Configuration
• 48 or 44.1kHz / 24-bit Recording Resolution
• MP3 and WAV file Recording and Playback
• Switchable Low Cut Filter
• Analog Auto Gain Control
• Analog Limiter
• Rechargable Lithium-Ion Battery
• USB 2.0 Connection to Computer
• Built-in Tuner and Vocal Cancel Features
• Overdub Feature to record narration, singing or instruments over an existing recording
The Tascam DR-1 will set you back $299. More information on the Tascam DR-1.