Serato Announces Itch – New DJ Controller Software
All That Scratchin's Making Me Itch
Serato announced Itch, new DJ mixing software that is meant specifically for integrating with hardware, such as Numark's new NS7 and Vestax's VCI-300, and other bits of kit that will be announced in short order. Serato hopes to bring the reliability that Scratch is known for into the hardware controller realm and to continue their market dominance among professional DJs. The software was designed from the ground up to work specifically with hardware DJ controllers and is not meant to be utilized with turntables or CD decks.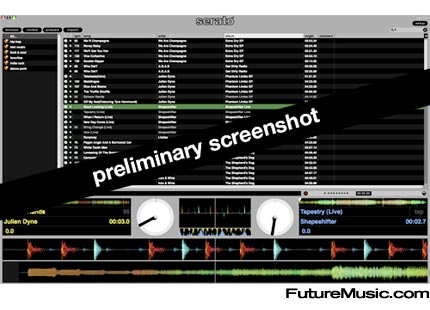 In development for two years, Serato's Inch was designed to be extremely easy to use and set-up. According to Sam Gribben, Serato General Manager, "there's just one USB cable to your computer and an audio output to your sound system. Plug in your headphones and you have a complete portable DJ system with audio output, level control, crossfader and EQ." The entire audio chain is delivered via Serato software and all mix adjustments are controlled by the ITCH hardware. All audio is in the digital domain until the master audio output, with Serato proven technology from beginning to end.
If you use iTunes, you can use Inch to physically control the playback and mixing of your playlists. If you're a Serato Scratch LIVE user, you'll find that all your crates, cues, and loops are available in both programs.
In working with Vestax (VCI-600) and Numark (NS7) engineers, Serato discovered that they could surpass the usability and response of current DJ Controller bundles by matching with the hardware with the software to ensure utmost reliability. "When asked what data we wanted from a controller to our software our response was 'how much can you give us?' " says Future Products Engineer, Bill Mitsakos. "I think it surprised our hardware partners that we were insisting on high speed/high data rates when other software was asking for less."
Features:
• Auto Tempo Matching and Beat Sync
• Optimal Gain and BPM Calculation
• Serato's unique color waveforms for easy identification of sound
• Set and store Cue-points
• Manual and Auto Loop activation
• Music Library management tools for backup and restore
• Input and Mix recording capability
• AIFF, WAV, MP3 and AAC audio file support
• High performance portable music system that allows internal mixing and platter style playback control
• Integrated "one to one" hardware to software mapping for instant control and minimum setup time
• Interoperable with Scratch LIVE crates, loops and cue points, also support for iTunes
• Audio processing and internal mixing via Serato Inch software, Channel fading, EQ, cross fading & track trim are processed in software with audio and headphone monitoring on the Inch hardware.
• Clean and simple software user interface with emphasis on hardware controller to display information
• Built-in multi-lingual help tools with Serato customer support and update program
No pricing or availability has been announced, but working versions will be demonstrated at MusikMesse in a couple of months. More information on Serato Itch.