Moog Music Releases Minimoog Voyager Old School
Moog Music has released a striped down version of the Minimoog Voyager (Basically, a Minimoog Model D… —Ed.) that they have dubbed Old School. The Old School is meant to be used solely as a performance synthesizer since it has no MIDI, and no digital control.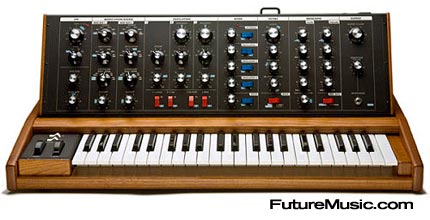 The signal path starts with a bank of three wide-range, high-stability voltage controlled oscillators, one noise source and one audio preamplifier for externally-applied audio signals. The sound modifiers are two Moog filters and one stereo Voltage Controlled Amplifier. It does maintain versatile patching facilities, and expanded modulation capabilities.
Control devices include a 44-key keyboard with velocity and afterpressure outputs, pitch bend and modulation wheels and many control/pedal input jacks.The Old School has a hinged, multi-position panel and a solid hardwood cabinet, a la the original Mini. The power supply accepts any power voltage from 100 volts to 240 volts.
The Minimoog Voyager Old School is available now for $2600. More information on the Moog Music Minimoog Voyager Old School.