Solid State Logic Rocks Project Studios With Duende Mini
Solid State Logic, SSL if you're nasty, has announced Duende Mini, a new compact, portable desktop box containing the quality, precision and DSP driven power of SSL plug-ins.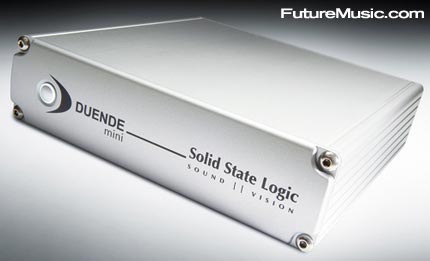 Duende Mini puts the SSL sound within your DAW in an affordable and portable version. Mini is a one third rack width, all metal construction, desktop box that hooks up to your computer via Firewire. This compact unit is ideal for small studios or laptop based DAW users. Mini makes a stack of DSP processing power available to drive up to 16 channels of 96kHz plug-in processing within your host application. Duende Mini is upgradeable to 32 channels of processing power and you can run two Duende units on a single computer system for up to 64 channels of processing. Duende Plug-ins are compatible with any VST, AudioUnit or RTAS (via a VST-RTAS wrapper) host application. Duende Mini comes with the Channel Strip and trail version of Duende Stereo Bus Compressor, X-EQ, Drumstrip, and X-Comp.
Duende Channel Strip key features include:
• Classic SSL console channel strip features and sound
• 4-band EQ, two shelving sections and two parametric
• Variable low-pass and high-pass filter
• Switchable EQ characteristics between E Series and G Series EQ
• "Over-Easy" soft ratio compression characteristic for smooth transitions
• Variable process order routing
• Dynamics side-chain processing with independent side chains for compressor and expander/gate
SSL's Duende Mini retails for $799, the Duende Mini 16 to 32 channel upgrade will set you back $399, and the Stereo Bus Compressor is $399. Duende Mini is available next month. More information on SSL Duende Mini.