KRK Reveals Ergo – Digital Room Analysis & Correction System
KRK Systems has revealed ERGO, a digital room analysis and correction system. ERGO (Enhanced Room Geometry Optimization) is compatible with all recording and monitoring systems and improves any studio mixing space by correcting for acoustic problems.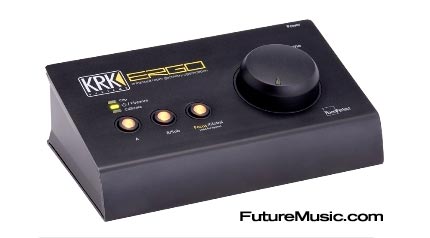 The ERGO connects to a PC via Firewire when it is performing its room analysis, but since all correction processing resides in ERGO, no overhead is needed from the computer audio system. This means that ERGO can function in pure analog systems since it can work as a stand-alone room correction/speaker control unit after room analysis is complete. The ERGO hardware contains a thousand precision filters to control the audio environment, adapting and correcting virtually any mixing space, from home-based digital audio workstations to professional recording studios. In short, ERGO makes any monitor system more accurate by reducing "bad" room sound, resulting in mixes that translate well to any listening environment.
In developing ERGO, KRK teamed up with the acoustics experts at Lyngdorf Audio and integrated their patented "Room Perfect" 3D room analysis and correction algorithms to provide the best room correction solution available. The technology analyzes and compensates for undesirable room acoustics which can negatively impact audio mixdowns.
In addition to world-class room correction, ERGO also acts as a speaker switcher and master volume control and creates a seamless full range monitors-plus-sub system with subwoofer integration. ERGO is also a 4-in, 6-out Firewire audio interface that easily interfaces with PC and MAC hardware and audio software, ERGO provides quality audio through its use of 120dB SNR digital-to-analog converters and phase-accurate signal processing. KRK further incorporates Firewire and S/PDIF input for digital connections to DAWs such as Pro Tools and other systems. A high quality analog volume control and headphone output are also provided in the system. 
KRK's ERGO will set you back $799, and will be available sometime in April.  More information on KRK Systems' ERGO.