Arturia Readies Origin Mega-Synth For 2008 Delivery
Arturia has officially taken the wraps off Origin, their new first hardware mega-synth. Arturia claims that the Origin Keyboard allows you to perform and create your music with a new level of dynamism, control and ergonomics. With a ribbon controller, a velocity and aftertouch sensitive keyboard, a joystick and numerous knobs, Origin Keyboard provides you with the control and playability needed to express yourself fully.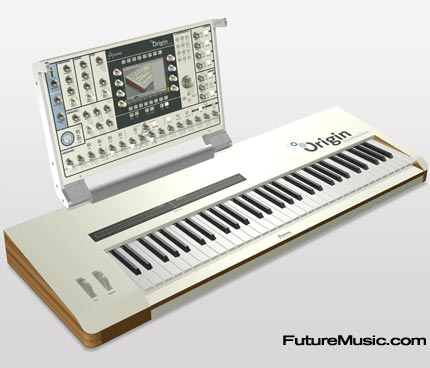 The innovative front panel, similar to the Korg Oasys, can be adjusted to meet your performance needs with its ergonomic design. "The Origin project has proved much more demanding and complex than we initially thought," says Frédéric Brun, President of Arturia. (Isn't that always the case? —Ed.) "The modularity of the architecture, combined with the nature of the engine, based two TigerSHARC's, and with the ergonomic choices we've made, resulted in a high level of complexity." (and price… —Ed.)
Origin is a new generation, modular system that is loaded with modules modeled on the best synthesizers of all time. Origin lets you combine these modules and benefit from the additional possibilities put onboard.
Features:
• Create your own patch by combining innovative modules and classic sound controls extracted from the Minimoog, the CS-80, the ARP 2600, the Moog Modular, the Jupiter-8, and the Prophet VS.
• Use template patches: an Origin audio structure made by connecting independent modules, or the Minimoog. (The Minimoog template will be delivered in version 1 while the other recreations will come as free upgrades in later Origin updates.)
• Up to 32 voices of polyphony
• More than 500 presets created by talented musicians and synthesizer specialists
• Modular system with more than 80 modules, some new, some excerpted from legendary synthesizers from the past.
• Superb audio quality with TAE® engine. 24 bits/96 kHz supported.
• With a future update to the Origin line, you will be able to open dedicated software on your Mac and PC and use the instrument as an AU or VST plug-in. All the sounds are produced on the Origin while you work on your computer, as you would do with a native application.
• Analog: 2 audio ins, 10 audio outs. Digital: SPDIF out, USB 2.0
• Selection of high quality effects: Phaser, Chorus, Delay, Distortion, Parametric EQ
• 16/32 step sequencer
• Innovative Macro, Advanced LFO, Advanced modulation modes, Advanced Joysick modes,…
• MIDI : In, Out, Thru or USB 2
• High Level of Control: ultra sensitive 40cm ribbon controller, high quality light-weighted 61 keys keyboard, with velocity response and channel aftertouch; Modulation and pitch-bend wheels, 3-mode Joystick, 55 potentiometers, 46 rotary encoders, 64 switches
• Self adjustable front panel, from 0° to 135°, giving you total setup flexibility.
• 5.2" TFT screen for clear visual feedback.
The Arturia Origin will cost $3499 / €2999, no ship date has been officially announced. More information on the Arturia Origin.