Live From MacWorld 2008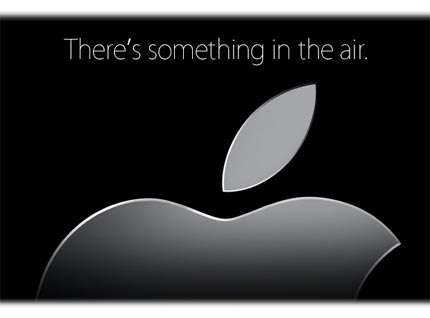 Live From MacWorld 2008
Inside now, tunes pumping…
"Something In The Air" tagline…
Something in the air?? New wireless action?? New ultra-portable laptop with built in cellular???
Lots of solid choons to groove to while we wait it out…Coldplay (Apple's house band), Kayne, Green Day, just waiting for KT to drop…
I'm bored…here's a screen shot: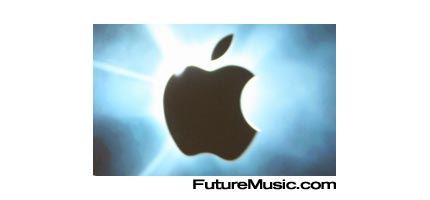 Lights dim…Mac/PC commercial on screen…PC has copied everything that Mac did…yadda, yadda, yadda…
Commercial is over…Ladies and Gentlemen, Steve Jobs! Wow, thunderous applause. This guy should run for office, Acid trips be damned!
Steve's doing a 2007 highlight reel, quoting mags and newspaper reviews of Leopard. Goes into Leopard's successful launch. 20% of OS X users upgraded. Sold 5 million copies…
Jobs now introduces Time Capsule, a dedicated wireless backup drive. Interesting product choice….
It's meant to serve mostly as a backup solution for laptops. Looks exactly like an Airport Extreme…
Two versions of Time Capsule, 500GB and 1TB, for $299 and $499 respectively, pretty cheap. It will begin shipping sometime in February…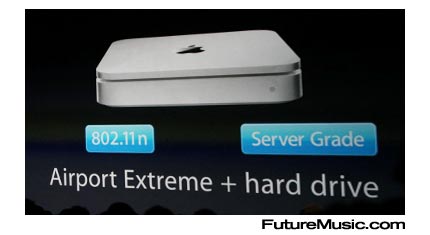 Now…iPhone recap…sold 4 million iPhones to day, that's about 20,000 per day! And…
Talking about SDK being released and the potential of legit 3rd party apps for the iPhone…
Showing off Maps App for the iPhone, which we've seen before…
…more boring iPhone apps, move your icons around, Safari bookmark action, boring! New laptop please…
More iPhone bullshit. Multiple SMS sending, but no MMS. Working with Skyhook and Google for positioning using cell tower triangulation. ZZZzzzzz….
All this crap is going to be in the iPhone's 1.1.3 update that they are releasing today for the iPhone and the iPod Touch, but Touch users have to pony up 20 bucks for the pleasure of upgrading…I think I just got a little bit of throwup in the back of my throat.
Onto the next item on the Agenda…iTunes
2007 iTunes recap…
Sold 4 billion songs to date. On Christmas day sold 20 million songs. New one day record. Sold 125 million TV shows…
And now iTunes Movie rentals. (no surprise here…) Come on Steve show us the money!!
iTunes Movie rentals from Lions Gate, Fox, WB, Touchstone, MGM, Miramax, Walt Disney, Paramount, Universal and Sony…
Cost? $2.99 for a catalog title and $3.99 for first run. Have 30 days once you download it to watch. Once you start watching it will last for 24 hours before imploding. Can transfer to your iPod…service is available starting today!
Pretty cool, but now Steve says that you can rent the movies directly from Apple TV. Wow, people are going apesh*t over this…actual screaming…weird.
Via Apple TV you can rent movies via iTunes in DVD quality. Wait? You can rent them in HD in 5.1 surround sound! Wow, now I'm whooping it up…but where's my portable laptop Steve??
HD rentals are a buck more…$3.99 for catalog and $4.99 for new titles….600 TV titles too!
New interface for renting movies is quite nice. Search function as well…and it works great. Apple Store is down…could it be??
Steve is now demonstrating downloading podcasts and buying music from iTunes via the new interface. Podcasts in HD! Saying there's lots of HD podcasts available…
Now onto photos. Can tee up photos on your TV set. Again, all-black interface, is gorgeous. Wow…you can even stream pictures from a .mac account, and even view picts from flickr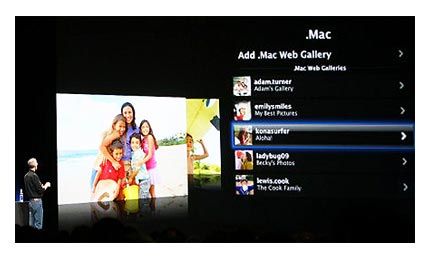 Apple Store still down…
The new software for Apple TV will be a free update! Available in 2 weeks. And the new price of Apple TV will only be $229. Please don't let this be the reason the store is down.
Dang! Steve is now trotting out the Chairman of Fox, Jim Gianopulos…
Who cares…new laptop please!
Yes!!!! MacBook Air Super slim…Steve pulls it out of an envelope! It looks like a door stop. 0.76″ at one end, 0.16″ at the other!!
It's gorgeous! It's silver with black keys and has a 13.3-inch widescreen LED backlit display! It's got a full size keyboard and a new trackpad with multi-touch gesture action! Sweeeeeeet!!!
I can't believe how thin this puppy is…how did they do it??
Wow…here's the technology rundown…
Instant-on display with mini 1.8-inch hard drives, or an optional 64GB flash drive. And Intel Core 2 Duo 1.6 GHz or 1.8GHz flavors…
Intel's Core 2 Duo processors have been made 60% smaller to fit it inside the MacBook Air.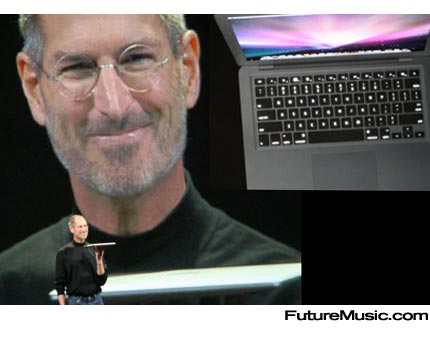 Steve's trotting out Intel CEO Paul Otellini to do some chest-pounding…
Otellini says that Intel didn't think they could do it, the processor is the width of a dime…
MacBook Air will open at $1700 and ship in two weeks…
It doesn't have a built in optical drive, duh! But will use remote disc technology for installing software…
Features:
• 13.inch LED backlit display
• 3.0 pounds
• 0.16 -0.76 inches
• iSight
• Full-sized keyboard
• New trackpad with multi-touch gestures
• 1.6GHz or 1.8Ghz Core 2 Duo
• 2GB memory
• 80GB mini hard drive
• Optional 64GB SSD
• 802.11n Wi-Fi
• Bluetooth 2.1 + EDR
• Remote Disc
• 5 hours of claimed battery life
• ECO Friendly
Mercury-free & Arsenic-free glass display. BFR free and PVC free circuit boards. 56% less packaging volume
MacWorld2008 Overview:
• MacBook Air – ultra portable laptop
• Time Capsule – wireless backup drive
• iPhone OS 1.1.3 update
• iPod Touch update ($20)
• AppleTV update
• iTunes movie rentals
Steve Jobs signs off with: "All this stuff in the first two weeks, and we've got 50 more weeks to go."