Apple Unveils Ultra-Portable MacBook Air
The Question Is: Will Have What It Takes Under The Hood For Music Production & DJing
So Apple finally took the wraps off the MacBook Air, ultra-portable laptop that Apple claims is the world's thinnest notebook. MacBook Air measures 0.16-inches at its thinnest point, while its maximum height of 0.76-inches is less than the thinnest point on competing notebooks. MacBook Air has a 13.3-inch LED-backlit glossy widescreen display, a full-size and backlit keyboard, a built-in iSight video camera for video conferencing, and a new trackpad with multi-touch gesture support so users can pinch, rotate and swipe. MacBook Air is powered by a 1.6 GHz or 1.8 GHz Intel Core 2 Duo processor with 4MB L2 cache, and includes as standard features 2GB of memory, an 80GB 1.8-inch hard drive, and the latest 802.11n Wi-Fi technology and Bluetooth 2.1.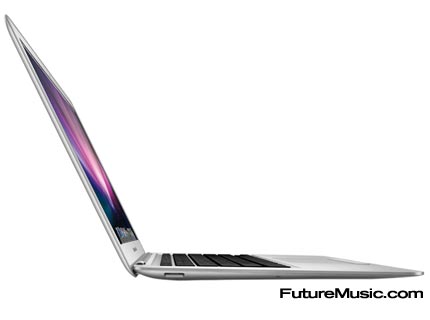 The new trackpad offers multi-touch gesture support for pinch, rotate and swipe, making it more intuitive than ever to browse and rotate photos or zoom into web pages in Safari. MacBook Air features a full-size keyboard design in a sleek and durable aluminum enclosure. The backlit keyboard makes it ideal for dimly lit environments such as airplanes, studios or conference halls, and a built-in ambient light sensor automatically adjusts the brightness of the keys as well as the display brightness for optimal visibility.
MacBook Air delivers up to five hours of claimed battery life for wireless productivity and includes AirPort Extreme 802.11n Wi-Fi networking. Apple's Migration Assistant software now enables users to quickly transfer files, applications and preferences from your old Mac to MacBook Air right over your wireless network.
MacBook Air users can buy the companion MacBook Air SuperDrive, a compact external drive designed for MacBook Air, for $99. The MacBook Air SuperDrive is powered by MacBook Air's USB port, eliminating the need to carry a separate power adapter. Many MacBook Air users will not find a need for an optical drive now that they can wirelessly rent movies from the iTunes Store, wirelessly backup files with Time Capsule and access the optical drives on remote PCs or Macs to wirelessly install software applications on MacBook Air.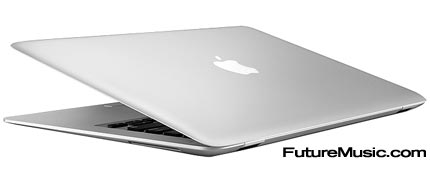 MacBook Air is powered by Intel Core 2 Duo processors running at 1.6 GHz or 1.8 GHz, and includes as standard 2GB of memory and an 80GB 1.8-inch hard drive. An optional 64GB solid state drive contains no moving parts for added durability. Every MacBook Air includes a micro-DVI port so users can connect to Apple's 20-inch or 23-inch Cinema Displays to extend their desktop or connect to projectors and other displays via DVI, VGA, Composite and S-video adapters. MacBook Air includes USB 2.0 for plugging in peripherals or charging an iPod or iPhone, a headphone jack and Apple's MagSafe Power Adapter designed especially for mobile users.
The new MacBook Air embodies Apple's continuing environmental progress with its aluminum enclosure; Apple's first mercury-free LCD display with arsenic-free glass; and brominated flame retardant-free material for the majority of circuit boards as well as PVC-free internal cables. In addition, MacBook Air consumes the least amount of power of any Mac, and its retail box, made primarily from 100 percent post-consumer recycled material, is 56 percent smaller by volume than the previously smallest MacBook packaging.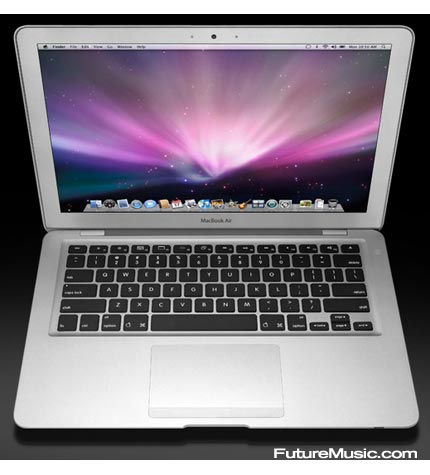 Features:
• 13.3-inch LED-backlit glossy widescreen display with 1280×800 resolution
• 3.0 pounds
• 0.16 -0.76 inches
• iSight
• Full-sized keyboard
• New trackpad with multi-touch gestures
• 1.6GHz or 1.8Ghz Core 2 Duo with 4MB L2 cache
• 800 MHz front-side bus
• 2GB of 667 MHz DDR2 SDRAM Memory
• 80GB mini hard drive
• Optional 64GB SSD
• 802.11n Wi-Fi
• Bluetooth 2.1 + EDR
• 1 USB 2.0 port;
• 1 headphone port
• 45 Watt MagSafe Power Adapter
• Remote Disc
• 5 hours of claimed battery life
• External SuperDrive ($99)
• ECO Friendly: Aluminum enclosure. Mercury-free & Arsenic-free glass display. BFR free and PVC free circuit boards. 56% less packaging volume
The Apple MacBook Air will be shipping in two weeks for $1,799. More information on the Apple MacBook Air.