Yamaha Announces KX25, KX49, KX61, and KX8 USB MIDI Keyboard Controllers
Yamaha has announced four new USB-powered MIDI keyboard controllers, KX25, KX49, KX61, and KX8, which they dub "USB Keyboard Studios." The KX Series were conceived and designed to support MIDI music composition, as well as sport a range of innovative features with advanced software integration and connectivity via a single USB cable.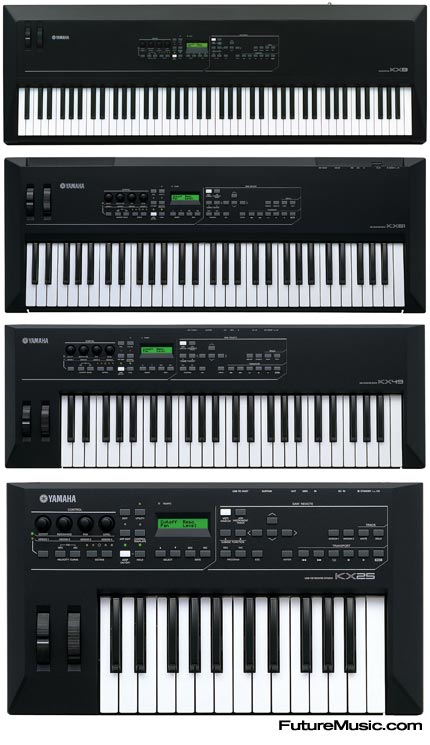 Yamaha claims the design of the KX Series control keyboards is based on in-depth research into the latest software-based music production and workflow approaches. Control capability has been refined for optimum compatibility with DAW software, software-based tone modules from major manufacturers, and the workflow methodologies they involve. There are transport functions to control DAW recording and playback, assignable buttons that can be assigned to a range of functions to suit individual needs, control templates for 30 different types of software tone modules. They also feature a range of drum, guitar, bass, keyboard and other musical phrases built in, minimizing the need for complex manual MIDI data programming. Complete compositions can easily be created with just one finger.
Features:
PHRASE FACTORY
The KX Series features a built-in arpeggiator with more than 500 pre-programmed phrases. Select an instrument and style, then simply hold the appropriate notes on the keyboard to play or enter the MIDI phrase data. For example, a guitarist could create a demo by entering all the required parts other than guitar by using the arpeggiator, and then overdub the actual guitar tracks. The KX Series makes it easy to create background music for your home page, backing for solo practice, and much more.
KX EDITOR
The KX Editor application, downloadable from the Yamaha website, allows detailed parameter assignment and editing for the four encoders and assignable buttons. You can create different parameter sets for production and performance, or for different types of music, and simply switch them as required.
VELOCITY CURVE CONTROL
Keyboard velocity response can be adjusted in six steps to match a wide range of tone modules and sample players. Optimum matching of player, keyboard, and tone module means maximum playing comfort and fluid performance.
AI FUNCTIONS PROVIDE HIGH-LEVEL CUBASE INTEGRATION
In addition to the bundled Cubase AI4 software, the KX Series provides high-level integration with Steinberg Cubase 4 and Cubase Studio 4 DAW applications. You can open edit windows with a single button, add instrument tracks right from the controller keyboard, and automatic switching of control templates for different software tone modules when tracks are switched, as well as other advanced functions, facilitate a smooth, efficient workflow. Quantize and delete functions are pre-assigned to the assignable keys so you can start MIDI production without the need for complex setup procedures.
FOUR CONTROL KNOBS PLUS TEMPLATES FOR 30 SOFTWARE TONE MODULES
In addition to advanced control of DAW software, the KX Series keyboards feature control templates for 30 different software tone modules built in. The most commonly used parameters for all 30 tone modules are automatically assigned to the keyboard's four real-time control encoders. When using Cubase the appropriate control templates are automatically selected when switching tracks, so you won't be distracted by having to change settings manually.
KEYBOARD RESPONSE
Yamaha has always placed a great deal of importance on achieving keyboard feel and response that gives the performer total playing comfort. The KX Series keyboard response has been carefully "tuned" for optimum performance with software tone modules. The 88-key KX8 features Yamaha's acclaimed GHS keyboard for a true piano feel.
No pricing or availability has been announced. More information on the Yamaha KX25, KX49, KX61, and KX8.