Soundblox Motion Introduces Controlled Distortion, Flanger, Phaser & Wah Guitar Pedals
Soundblox Motion has premiered Controlled Distortion, Flanger, Phaser and Wah Guitar Pedals for their unique Hot Hand Controller. The new stompers are available separately in either wireless or wired configurations, or driven either by an LFO or Envelope Follower.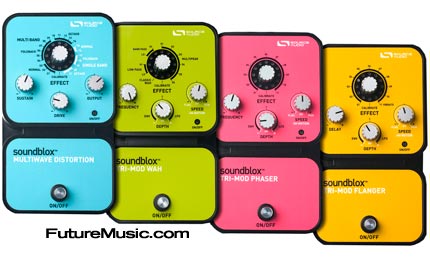 The Soundblox Mulit-Wave Distortion Pedal gives guitarists 21 distortion effects. Based on new algorithms, these cover a wide range from essential electronic sounds to aggressive synth-like, octave heavy and extreme foldback settings that go far beyond typical emulations of existing distortions. In the multi band mode, the Multiwave Distortion also divides the input signal into multiple frequency bands, which are then separately distorted before being recombined. This enables guitarists to play complex distorted chords while each note can be heard with exceptional clarity. Several notes can be allowed to drone simultaneously while a separate melody is played on top with different notes feeding back at the same time.
Based on the Hot Hand Wah Filter and Hot Hand Phaser/Flanger effects systems, The Sounblox Tri-mod Flanger, Phaser & Wah Guitar Pedals each offer 11 different effects that feature the same high quality sounds as their predecessors. The Tri-Mod Wah, Phaser and Flanger guitar effects pedals can be further modulated using the Frequency, Depth and Speed controls for additional sounds. The Frequency control sets the filter sweep to lower or higher frequencies. Depth drives the effect with either an LFO or Envelope Follower and controls the depth of each modulation source. Speed controls either the attack and decay time of the envelope or the speed of the LFO.
If the Hot Hand motion Controller is used, a subset of controls on each Soundblox guitar pedal adjusts the Hot Hand controller to suit an individual's playing style. All Soundblox guitar effects pedals feature state-of-the-art 56 bit DSP co-developed with Analog Devices, Inc. and crystal clear 24-bit A/D D/A converters for exceptional sound quality.
Soundblox's pedals cost $149.99 each, the Hot Hand Wireless Adapter & Controller will set you back $150, and the Hot Hand Wired Controller is $24.95. More information on the Soundblox Controlled Distortion, Flanger, Phaser & Wah Guitar Pedals.