Alienware's New Widescreen Monitor Has Serious DAW Potential
Alienware is showcasing a new curved DLP computer display at CES with a 2880 x 900 screen resolution. The monitor is only a prototype, but the DLP display with LED illumination has incredible potential for Digital Audio Workstations when it bows sometime in the fall of 2008.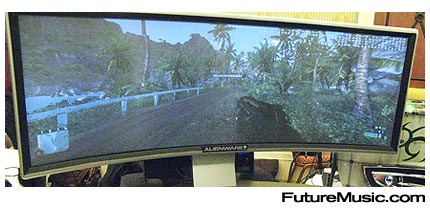 Alienware claims that the curvature of display simulates peripheral vision for total immersion. Obviously this is targeted at the gaming market, but we couldn't help drool over having a ProTools session expanded over such a wide area. It works by combining four LED-backlit DLP projectors inside (you can see the lines in the image above if you look closely) however Alienware says that by the time the display premiers, it will have a seamless image thanks to some pretty hefty image-processing action, which by Ostendotech.
No pricing has been announced, but it will not come cheap. Alienware has no information on their website at this time.