Samsung Premiers NV4 – Digital Camera & Portable Media Player
Samsung has unveiled the NV4, its second foray into the digital camera / portable media player convergence arena. The NV4 houses a eight mega-pixel sensor in a compact stainless steel body with a non-protruding, 3x optical zoom NV lens. The NV4 features a 2.5″ LCD screen for reviewing pictures, watching movies and selecting MP3 tracks.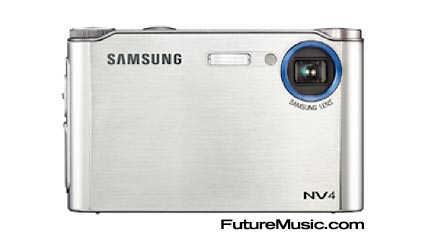 In PMP mode, NV4 users can listen to their favorite MP3 choons or watch video content on the camera's high-resolution display. The bundled Digimax Converter software seamlessly converts the user's MPEG, AVI, MOV, WMV and ASF files for viewing on the NV4. For music on-the-go, the software can also convert MP3 and WAV audio files in several simple steps. The software also allows users to view subtitles, adjust the screen size and crop and stretch the image to fit the screen as desired. To listen to videos or music, the NV4 features a 2.5mm headphone port and external speaker with SRS over-hyped 3D acoustic technology.
The new NV4 also features i-movie mode, which offers users high-resolution SVGA (800×592) MPEG-4 video and advanced editing controls. By using the camera's Successive Recording mode, users can pause, and then resume filming of video clips without having to save the clips as individual files. Additionally, users can operate the camera's optical zoom while filming and can engage a movie stabilizer to compensate for unwanted camera movement and subject blur.
In low-light situations, shooters can rest assured that their images will come out sharp and clear as the NV4 is equipped with Samsung's improved DIS (Digital Image Stabilization) image stabilization system and an ISO equivalent of 1600. When engaged, DIS helps to minimize the effects of hand shake and ensures that the best shots are captured even in dimly lit conditions.
Shooters can also take advantage of the camera's numerous user-friendly features, including its Face Detection and Self Portrait modes. Face Detection makes taking pictures of family and friends a snap as it automatically detects up to nine faces and adjusts focus and exposure to ensure better composition and image quality – all the user needs to do is point and shoot.
In addition to PMP, the NV4 also features Samsung's innovative World Tour Guide function, which provides travel information covering 4,500 regions in 30 countries– helping users to plan trips and find their way while on the road. (ah, kind of a weird added-value bonus. —Ed.)
The Samsung NV4 costs $279 and will be in store shortly. More information on the Samsung NV4.