Dr. Dre Sells Out Big Time With Overpriced "Beats" Headphones
Monster Cable has partnered with Dr. Dre with a little help from Jimmy Iovine to produce the Beats by Dr. Dre "high-performance" headphones. Monster claims the cans were conceived by Dr. Dre and engineered by Monster. It sounds more like Monster paid Dre a boatload of cash to put his moniker on a set of idiotic-named headphones, and charge accordingly.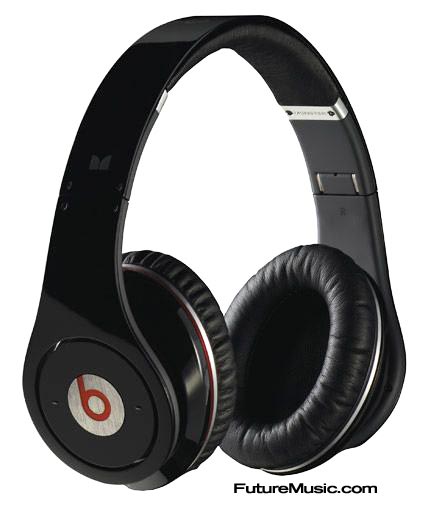 In order to re-create "full sonic experience of today's best recordings," Monster claims their new powered isolation headphones took two years to develop, and that it utilizes technologies never before used in cans. (More like it took two years to hammer out a contract with Dre. —Ed.)
"When I'm making a track I'm trying to capture the sound that makes me go 'now THAT's the sh*t! And I want that reaction from everybody who hears it," said Dr. Dre. "I spend a lot of time in the studio listening to my music through headphones…with Beats, people are finally going to hear it the way they should: the way I do." (Wow…is this possibly the lamest quote ever? Now you know why everyone is sayin' Hip-Hop is dead. —Ed.)
"Beats by Dr. Dre" have a unique and avant-garde new look and that will revolutionize the headphone world. Everything about the sleek Beats headphones, from their glossy extra-wide headband and hip carrying case to the high-impact attention-getting packaging reflects impeccable style. The wide adjustable headband, hinged ear cups and high-quality Monster cable makes the Beats listening experience unmatched for comfort and function. A push-to-listen Mute button adds to the flexibility and convenience.
Notice anything missing from this announcement? We do. There's absolutely NO technical information on these new cans. It's all marketing smoke and mirrors. Translation: If you pay us $400 bills for these headphones, you can pretend your Dr. Dre (when he wasn't trying to rip off emerging producers…).
Monster/Dre's Beats will be available in sometime in the Spring of 2008 for $400 bucks. More information on the Monster/Dre's Beats headphones.