Sennheiser Partners With Kleer For MX W1 Wireless Earphones
Kleer has partnered with Sennheiser to debut the industry's first true wireless stereo earphones based on Kleer's lossless audio technology. Sennheiser's new MX W1 wireless earphones claims to deliver CD-quality stereo sound with high noise immunity in the congested 2.4 GHz band environment.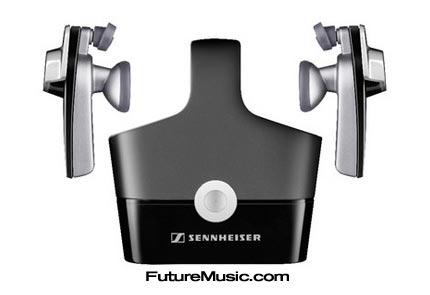 All Kleer-based products are fully interoperable, enabling the MX W1 earphones to receive wireless audio from any Kleer-based portable media player. Kleer's Listen In technology also enables two or more people, each with a set of MX W1 earphones, to listen to the same audio stream at the same time, a very cool feature.
Sennheiser asserts that Kleer's very low audio signal latency, coupled with interference-free transmission also translates into considerably longer battery life than what you'd get with conventional transmission standards.
The MX W1 is comprised of two ear pieces featuring Sennheiser's 'twist-to-fit' system to ensure a secure and comfortable fit in each ear. Kleer's 5x – 10x power advantage over Bluetooth has enabled Sennheiser to use the smallest rechargeable coin cell battery in the world, thus facilitating a compact, ergonomic design. The earphones also come with a small, matchbox-sized transmitter and a transport case which includes an integrated battery that can recharge the earphones when away from home.
The Sennheiser MX W1 earphones will be available sometime in May 2008, no pricing has been announced. More information on Kleer's wireless technology.