Zero-G Unveils Phaedra – Sample-Based, Virtual Analog Synth / Sound Module For Mac & Windows
Zero-G has unveiled Phaedra, a new, sample-based, virtual analog synth / sound module powered by Native Instruments' Kontakt Player 2 Audio Engine. Phaedra is a Zero-G/Xfonic Kontakt-based virtual instrument featuring over 4 gigabytes of sounds, 20,000 samples and 720 patches.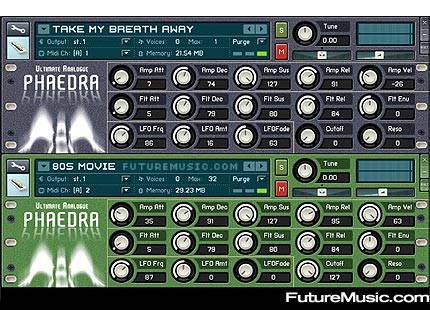 Unhappy with the lack of raw sonic power in virtual emulations of VSTi analog synths, producer Sam Spacey set out on a three year journey to make the ultimate synth. Constructed with the same attention to detail as a huge orchestral sample library, each of the 20,000 samples has been edited and looped by hand, with loops being very long so as to extract that lovely random analog magic. Nearly every single preset has each separate note sampled so as to eliminate aliasing within the instrument's range. All the sounds were recorded and processed at 16-Bit resolution and 44.1 KHz sample rate.
Synths Sampled For Phaedra:
• Mini Moog D – Was very hard work to sample due to the fact that if you looked at it, it went out of tune.
• Welsh Moog – A prototype Re-issue Moog made in Wales, but had a unique PWM mod done to it.
• Yamaha CS5 – Very snappy and fast attack and surprisingly bass-y oscillators.
• Yamaha CS-15 – This one was delivered in a terrible and broken state, but sounded great for it.
• Yamaha CS-30 – Sometimes all 3 Yamahas were stacked up over CV voltage for a huge sound.
• Korg Monopoly – 4-osc howling beast.
• Korg MS-20 – Very quirky with a great filter.
• Studio Electronics SE-1 – Modern rack-mounted Moog that could store presets and stay relatively in tune.
• Studio Electronics SE-1 – as above but with filter input. Often two stacked.
• Roland SH-101 – Wet and squelchy, a really good little workhorse.
• Crumar Multiman – 70's string synth with Arp filters, surprisingly interesting palette of sounds.
• Akai AX-73 – Cheap and nasty; evil filter.
• Analog Phaser – Home-made, based on the Small Stone that was modded and used by Jarre on everything he did.
• Roland analog chorus pedal – Subtle but lovely.
• Ensoniq Esq-1 – 8-bit grungy samples going through complete Curtis analog circuitry.
Zero-G's Phaedra costs $199.95 / €169 / £114.95 and is expected to be released this month for Windows and Mac OS X in VST, DXi, AU, RTAS and stand-alone formats. More information on Zero-G Phaedra.