Olympus Unleashes LS-10 – Portable PCM Audio Recorder
Olympus has announced the LS-10 Linear PCM Audio Recording Device. The LS-10 records in uncompressed 24 bit/96 kHz Linear PCM format for digital stereo recordings true to the original performance. In addition to WAV, the LS-10 records and plays back in the common WMA and MP3 formats.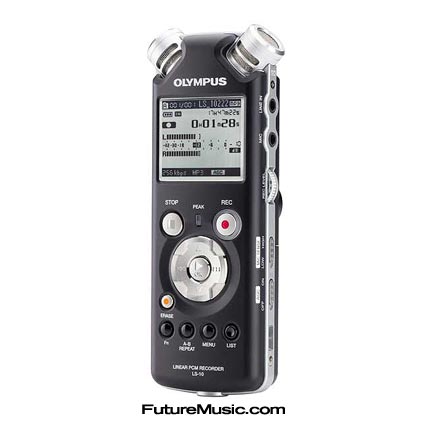 Features:
• Uncompressed 24 bit/96 kHz Linear PCM recording capability
• WAV, MP3 and WMA recording and playback
• Durable aluminum body
• 2GB Built-in memory and a SD/SDHC removable media card slot that can accommodate SD cards
• Built-in stereo speakers for instant playback of recordings
• High sensitivity built-in stereo microphones
• Manual Recording Level Adjustment to obtain the optimum level
• Remote jack for optional wireless remote controller
• Recording battery life of 12 hours
• Large 1.8-inch LCD with backlight
The LS-10 features uncompressed 24 bit/96kHz Linear PCM recording capability, as well as the ability to record and play back in the WAV, MP3 and WMA formats. The LS-10 can record with its internal microphone or by plugging in an external microphone.
An enlarged, backlit LCD is easy to read and shows file information, recording time and events clearly. The device is outfitted with an ergonomic dial thumb pad allowing the user to play or stop a recording, adjust the volume level, fast-forward and rewind with the touch of one button. The Erase and Folder/Index buttons are positioned individually below the thumb dial for easy access. The LS-10 has a lightweight and durable aluminum body weighing in at 5.8 ounces including batteries.
The LS-10 has two gigabytes of internal flash memory and also features an SD/SDHC removable media card slot to further expand its capacity. The LS-10 can play back the high-quality audio it records and play it back on its built-in stereo speakers. These speakers allow more than one person to listen to a new recording simultaneously to help collaborating musicians evaluate recording progress on the fly.
The optional exclusive wireless remote controller allows users to start and stop the recording of the LS-10 from a distance. This is ideal for live performances when the LS-10 can be placed near the stage and activated from several rows back. Olympus claims the LS-10 can record for 12 hours on two AA batteries. Although, (all together now!) your mileage may vary…
The LS-10 ships with Steinberg Cubase LE 4 Sound editing software with 48 sound tracks and variety of effects, a carrying case, USB cable, audio cable, wind screen, two AA batteries, a strap, an instruction manual and Olympus warranty card. Optional accessories for the LS-10 include an infrared remote control, AC adaptor, conference microphones (ME30W), Carrying Bag, Tripod, Rechargeable Battery (Ni-MH) and Charger, a zoom microphone, and a headset.
The Olympus The LS-10 Digital Audio will sell for around $400 bills when it becomes available sometime this month. More information on the Olympus LS-10 Digital recorder.