Bang & Olufsen Releases BeoSound 6 MP3 Player
Bang & Olufsen, the Danish concern, has released the BeoSound 6 MP3 player. B&O claims the BeoSound 6 delivers quality craftsmanship, solid sound quality due to its high performance on signal-to-noise playback, and up to 40 hours of battery life. BeoSound 6 allows user-friendly simple operation and navigation of music files and comes complete with an exclusive leather carrying case and travel charger, as well as the A8 Earphones.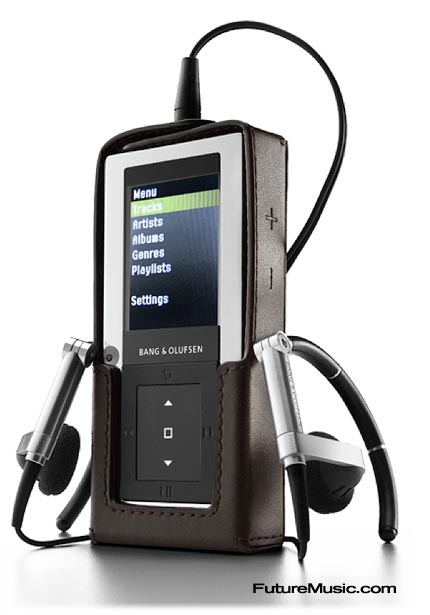 The BeoSound 6 is B&O's enhancement of existing Samsung technology. The sound is reproduced as neutrally and naturally as possible, so the musical detail remains pure, as if one is listening to the original source. The bass boost function in BeoSound 6 has been optimized to suit the A8 Earphones. The dynamic full-tone earphones are mounted on a telescopic bar and constructed according to the open loudspeaker principle, which allows a non-intrusive amount of surrounding noise to be heard at lower volume levels.
Constructed of lightweight, resilient rubber and aluminium, the A8 Earphones weigh less than one ounce each, and offer an elegant mechanical design that ensures a precise adjustment to each individual ear. The A8 Earphones have a secure fit that won't fall off easily and are sleek enough to be worn together with glasses, making them perfect for active use on the move.
Bang & Olufsen has developed a simple and free software solution, BeoPlayer, which accesses and organizes all music files on one's PC, and transfers them to BeoSound 6. BeoPlayer can download MP3 and WMA music files and convert AAC files, and also includes clip art of CD covers.
With the capacity to hold 1,000 songs, the BeoSound 6's sleek, minimalist design features a stainless steel frame surrounding the sides and black, scratch-resistant LCD display. The soft-touch lacquered back surface allows BeoSound 6 to rest easy in the hand while operating the keypad placed underneath the front display. The rectangular touchpad is used for menu navigation and the surrounding rubber keypad for playback functions.
B&O claims the BeoSound 6 will last for 40 hours of playback until the next recharge, although your mileage may vary.
The Bang & Olufsen BeoSound 6 costs a whopping $600.00 and is available now at B&O retailers. More information on the Bang & Olufsen BeoSound 6.