Use Audio Announces Plugiator – Plug-in Synthesizer
Use Audio Inc. has announced the Plugiator, an innovative table top synthesizer that can store up to eight different DSP plug-ins allowing for flexible and kinetic sonic possibilities.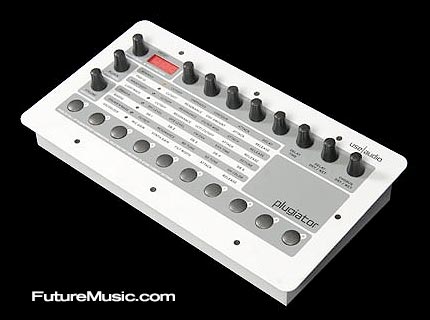 Most hardware synth modules are fixed-architecture — providing one fixed sound engine and presets — however, the Plugiator allows for different synthesis architectures in one chassis, expanding the sonic possibilities and sound palette.
And while sample players only play back recordings of different instruments, the Plugiator emulates and models the actual instruments themselves. You can also access and tweak all sound parameters of the model for creating new sounds.
The Plugiator can store up to eight different DSP plug-ins and can load any one at a time at a push of a button. Each plug-in comes with 100 presets – allowing you to store up to 800 different sounds within the unit.
The Plugiator comes loaded with four synth plug-ins:
• the Minimax, a Moog-kind emulation
• the Lightwave, a wavetable synth
• the B4000,
• the Vocodizer, a vocoder
When connected to your computer via USB, the Plug-In Manager software for Windows and OSX lets you tweak each plug-in via its GUI and manage your presets which you want stored in the Plugiator box.
Another unique innovation is the elegant integration of an online sound database, which allows you to listen to new user-uploaded presets with just one click of your mouse. No need to download and install sound banks: actually listen to new sounds from the internet instantly.
The Plugiator's interface contains eight encoder knobs — allowing you to tweak major sound parameters while playing — and ten quick pads let you quickly store and recall your favorite plug-in/preset combinations.
Use Audio's Plugiator costs $469 / €399 and will be available sometime in 2008. More information on Use Audio Plugiator.