Razer Unleashes The Mako 2.1 THX Computer Audio System
Razer has released the Mako 2.1 bi-amplified multimedia speaker system. The Mako was co-developed with cinema sound pioneer THX. It is the first desktop speaker system to incorporate the THX Ground Plane and THX Slot Speaker technologies, as well as ClassHD Digital Amplifier Technology, which creates rich, omnidirectional audio.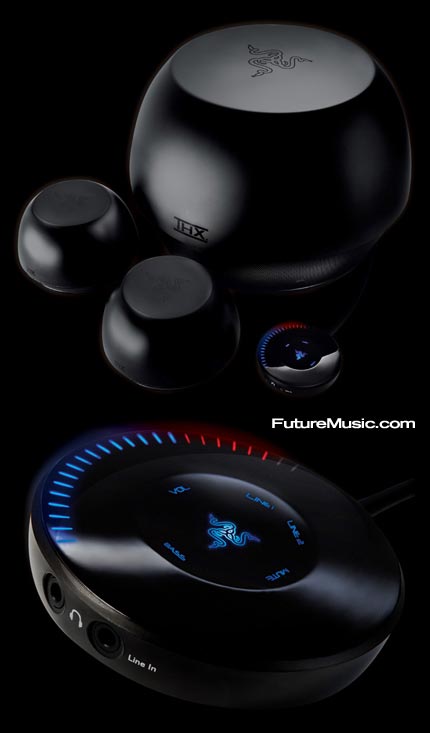 Specs:
• THX-certified quality and performance
• ClassHD digital amplifier technology with digital DSP control
• Higher efficiency curves, improved SNR and EMI, and lowered distortion levels
• Patented THX Ground Plane and THX Slot Speaker technologies
• Downward-firing design with optimized acoustic enclosure
• All-in-one remote control pod with touch-sensitive LED dial
• 3.5mm auxiliary input minijack
• 3.5mm headphone minijack
• RCA audio input
• Response limits: 40~18,000Hz ± 2dB (30~20,000Hz ± 6dB)
• Total system power: 300W RMS
The innovative downward-firing design of the THX Ground Plane and THX Slot Speaker technologies allows the Mako to disperse powerful sound in all directions. The engineers developed the system to eliminate the inherent distortion caused by the refection phenomenon encountered with normal speaker systems.
Razer claims the ClassHD digital amplifier technologies intelligently manages the amplifier power to achieve greater power efficiency, lower distortion levels, and markedly better sound quality.
Razer's Mako 2.1 cost $399 and are available now. More information on the Razer Mako 2.1.