Dave Smith Announces LinnDrum II Analog – Formally BoomChik
Dave Smith Instruments has announced that the BoomChik, the analog synth/drum machine hybrid, which was hyped last January at NAMM 2007, is now called the LinnDrum II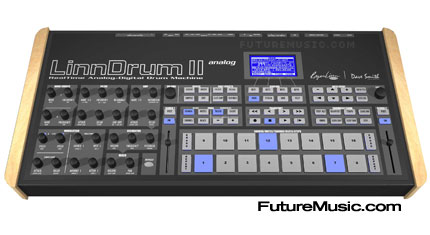 According to a special "stocking stuffer" page that Dave Smith set up on his site, there will actually be two models of the LinnDrum II: the all-digital LinnDrum II and the LinnDrum II Analog, which adds a 4-voice analog synth and 27 dual-function voicing knobs. In an interesting marketing twist, the LinnDrum II will be available from Roger Linn Design and the LinnDrum II Analog will be available from Dave Smith Instruments.
Dave Smith revealed some of the LinnDrum II's features on his site. The operating system emphasizes real-time performance with the ability to drop in and out of record on different beats, play multiple beats simultaneously, switch in and out of song mode, and much more, all without stopping play. Both MPC-style real time and XOX-style step recording are provided, and the 16 velocity- and pressure-sensitive pads — backlit for visual sequence animation — can be assigned to sounds, tunings, beats, pad mutes, or sequence steps.
The collaboration aims to take the MPC concept to the next level by incorporating new programming/composition paradigms that only these two innovators could develop. Dedicated buttons exist for touch sensitivity, sound restart, real-time erase and pressure-sensitive note repeat or rolls. 16 megabytes of internal flash memory exist for sound storage, but because sound data is read directly from flash, expanding sound memory is accomplished merely by plugging a compact flash card into the rear panel slot.
Inputs and outputs include four audio outs, two sampling/audio processing/drum trigger inputs, phones, USB, MIDI in/out, two expression pedal/foot switch inputs, and four additional direct voice outputs for the Analog model.
Sample playback is enhanced with 8-level velocity switching, dynamic filters and resonators, distortion and lo-fi algorithms, two complex modulation matrices and the ability to use sequence events as modulation sources.
The Analog model enables significantly richer voice timbres with its four Curtis chip-based analog voices, analog feedback resonator paths, and dedicated voicing knobs. Performance enhancements include two programmable sliders and dedicated on/off buttons for filter, resonator, amp sim/compressor, EQ, delay and reverb effects.
Dave Smith did not reveal pricing for either LinnDrum II model, but did state that they hope to begin shipping sometime during Summer 2008. More information on the the new Dave Smith Instruments LinnDrum II Analog.