Vivid Audio Announces G1 Speakers
Vivid Audio is clearly in the Christmas spirit with their new high-end Elf speakers. Well, they're not really called Elf, but with their little curly-cue dealio at the top, they should be…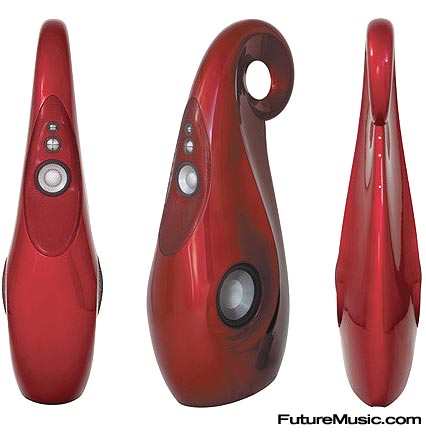 The new G1 speakers were designed by Laurence Dickie, famed member of the team who developed the Nautilus series of speakers at B&W. His background probably explains for the Elfish curly-cue at the top, but the Giya sports some other unique features including side-mounted, dual 12″ woofers with mechanically coupled magnets, and tweeter and midrange domes that utilize Vivid's patented tube loading to achieve reduction in back waves and superior performance.
Vivid's new aluminum bass woofers were designed in-house and use a dynamic short coil, long gap magnet construction. The Curly-Cue is actually functional and Vivid claims it not only loads the bass, but also prevents audible standing waves.
The Vivid G1 comes is a variety of colors using automotive paint finishes.
Specifications:
• Frequency Range: 23Hz to 44kHz (30Hz – 40kHz +/- 2dB)
• Sensitivity: 91dB, 6 ohm nominal, 4 ohm minimum
• Power handling: 800 watts
• Weight: 154lbs
• Size: 67″h x 14″w x 31.5″ d
The Vivid G1 costs $54,000 and will be available sometime in January 2008. More information on the Vivid G1 speakers.