Weekend Fun: Ski Mojo
Developed by a group of old farts ski bums from England, the Ski Mojo is a shock absorbing exoskeleton that reportedly will support your leg muscles so you can ski faster and longer than ever before.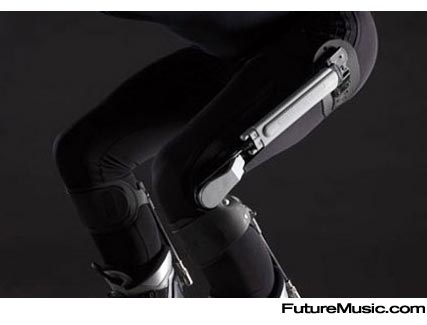 I know you must be muttering to yourself, "what do a bunch of Brits know about skiing?" But it turns out that the idea for the apparatus came from a group of friends from the UK who just happen to be engineers. After a vigorous outing, they were too beat to bump all day and decided to invent the Ski Mojo instead of going to the gym and getting into better shape.
The device is worn on both legs and attaches round your shins and to the ski boots and then an arm goes up the outside of each thigh and is secured by a strap around your waist. As you can see from the picture above, it looks better than it sounds, but for many hardcore skiers out there, this may just be too sissy.
The Ski Mojo costs v£289 and will be available shortly. More information on Kinetic Innovations' Ski Mojo.