Anthony Gallo Acoustics Announces Nucleus Reference 5LS Loudspeakers
Anthony Gallo Acoustics has announced the Nucleus Reference 5LS Loudspeakers. These pups are 6.5 feet tall and come with all sorts of aluminum and carbon fiber sound wizardry.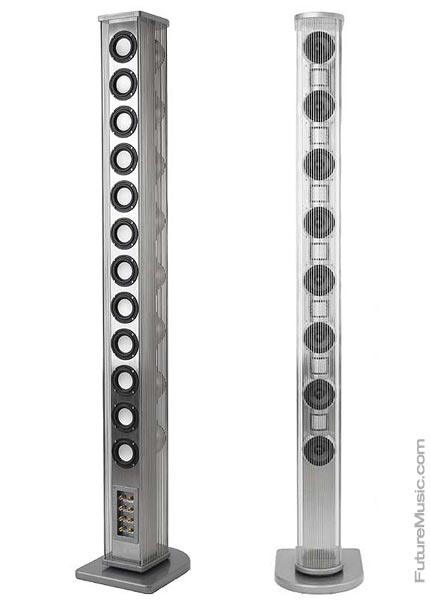 The Reference 5LS features seven of Gallo's patented CDT II tweeters in a line-array with eight 4″ carbon fiber midrange drivers, each housed in its own 5″ spherical enclosure. Gallo claims the spherical enclosures virtually eliminate resonance and diffraction while enabling a broad 300-degree dispersion. Twelve aluminum, rear-firing 4″ subwoofer drivers are equal to the surface area of a 15″ driver, but reproduce bass with increased speed and transparency.
Although most line sources must horizontally offset their various drivers, the Reference 5LS alternates tweeter cylinders with midrange spheres, one atop the other, in a vertical alignment. As a result, Gallo asserts that the phase and dispersion problems caused by driver offset are entirely eliminated. The tubular stainless steel bass enclosure is stuffed with Gallo's patented S2 Technology, which further enhances the quality and quantity of low-frequency output.
No pricing or availability has been announced. More information on Anthony Gallo Acoustics Nucleus Reference 5LS Loudspeakers.