Alesis Announces M1 Active 320 USB Speakers / Audio Interface
Alesis has announced the M1 Active 320 USB monitors for computer music production enthusiasts. The new Alesis 320 USB-audio speaker system delivers a new proposition for USB audio playback and capture — the speakers double as an audio interface.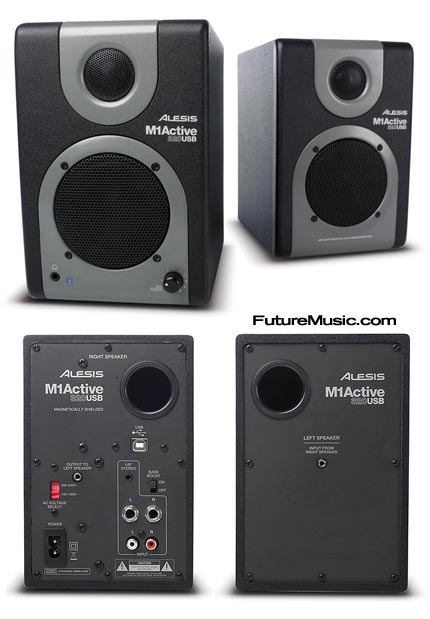 Use a USB cable to plug the speakers directly into your computer, and you're in business. Alesis claims that no special drivers are required. The audio inputs consist of a 1/8″ stereo mini plug, two 1/4″ connectors and RCA.
Although the speakers look budget, only dish 10 watts per channel, and have yesteday's USB 1.1 connectivity, the concept behind the M1 320's is unique.
Features:
• USB 1.1 audio interface
• 16-Bit / 44.1-48 kHz recording and playback
• 1/4" plugs and standard RCA jacks
• TRS Headphone output
• Two 1/4" phone jacks inputs
• Stereo 1/8" TRS mini-jack input
• Stereo RCA inputs
• 1/8" TS output to passive speaker
• Switchable power supply
• Magnetically shielded
• Woofer: 3″ lightweight, magnetically-shielded
• Tweeter: 1″ silk dome
• Frequency Response:58 Hz – 25 kHz
• Power: 10W per channel RMS
• Signal-to-Noise Ratio: 88dB weighted
• Digital Conversion: 16 bit delta sigma, 44.1kHz or 48kHz sampling rate
No pricing or availability has been announced. More information on the Alesis M1 320 USB / Audio Interface speakers.