Weekend Fun: Roadkill Toys
Roadkill, a new company out of the UK, (who else could have come up with something this demented… —Ed.) has created the perfect gift for one of your over-pierced friends, Twitch the Raccoon.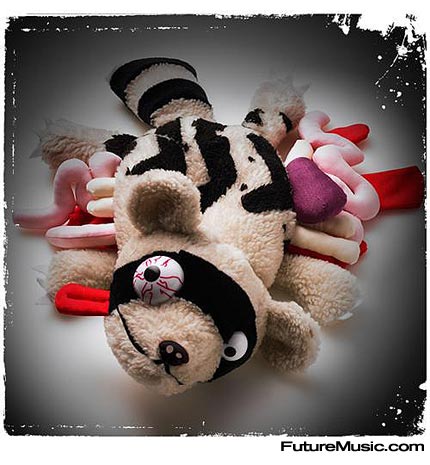 Twitch, as he's known to his friends, is a stuffed recreation of roadkill, complete with guts and whatnot, that can "spill out" of a zippered cavity in his body. The company has dubbed this style of stuffed animal "Squash-Plush", which has an even more deranged connotation in certain circles.
"Twitch is made of cute teddy materials like fur and stuffing. But that's where the cuteness ends. He lies in a pool of blood and guts. Organs, cracked ribs, intestines, blood- all of them are stuffed. And we've used a new type of stuffing that squidges out when you squeeze it. We think it gives a more realistic effect. On his underbelly there is an embroidered blood splat, and sunny-side up there's a tire print." So says the designers.
What kid wouldn't be thrilled to find this under the tree on Christmas morning?? On second thought, Wendy Addams would be ecstatic! But we digress…
Twitch comes with a couple of accessories, a body bag made of an opaque plastic, so you can make out the macabre details inside, and a toe tag, which informs you how Twitch met his untimely demise.
According to the manufacturers there will be several additions to the squash-plush line including, Pop the Weasel, Splodge the Hedgehog, Grind the Rabbit, Smudge the Squirrel, and finally Puddle the Vole.
More information on Roadkill toys. Make's a great stocking stuffer.