Algoriddim Updates djay To Version 2.0
Algoriddim has updated djay, their mixing software for Mac OS X, to version 2.0. Algoriddim claims djay 2.0 takes music mixing applications to the next level with its new feature set including a completely redesigned user interface, and a new high-performance audio engine, as well as support for over 30 different audio and media formats.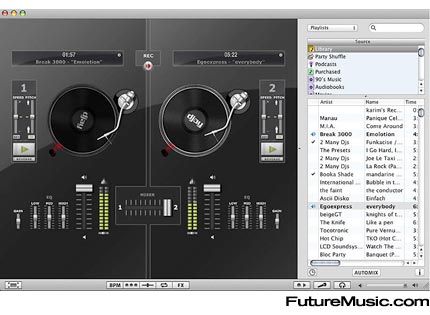 New Features & Enhancements:
• Sampler/Looper
• New full screen mode
• Automix
• New Audio Effects: Reverse playback, Scratching, Backspin, Instant Echo, Reverb, Gain, Pitch-Bend
Voice Pitch-Shifter, Audio Unit Effects for the Microphone
• Undo/ Redo in Real-Time: Practically any operation can be instantly undone, even during live playback.
• Saving Song Settings: djay 2.0 allows you to save all slider settings you have made for a song such as EQ, Speed, Balance, Pitch and Gain. You can also save any Cue Points, BPM and Loop region that you created for a song.
• Efficient audio file seeking capabilities: djay 2.0 offers highly innovative ways of seeking through your sound files to find a precise spot in a song or to analyze a song's structure.
• Enhanced Music Library features: djay's iTunes integration has dramatically improved. You can now arrange tracks by Playlist, Artist, Album, Genre and Composer.
• History of songs: djay now allows you to keep track of all the songs you have played during a djay session. You can even export your song history as a playlist to iTunes or save it as a PDF.
• Live Microphone: Put your own voice into your mix, live. You can use the Live Microphone to speak into the mix or sing to the music. Apply echo and a real-time pitch changer to your voice to sound like you've never sounded before.
• Transitions: djay 2.0 allows you to automatically and seamlessly switch from one song to the next using a variety of techniques such as Backspin, Echo, Reverse, Brake, Standard, and Random.
• Looping: Looping is a great addition to Cue Points that replays a particular part of a song continuously. You can create loop regions that are as short as 0.1 seconds or as long as the entire duration of an audio file.
• Audio Engine: djay 2.0 can extract the audio content from digital videos or QuickTime movies.
• Fully automatic audio hardware detection and configuration: Whether you are using a microphones, USB headphones, or a sound card – simply plug them into your Mac and djay will detect and perform the optimal configuration for you automatically.
Algoriddim's djay 2.0 costs $49.99 / €39.99 and is compatible with Mac OS X 1.4 and 10.5. More information on Algoriddim djay 2.0.