Marantz Professional Unveils PMD620 Portable Digital Recorder
Marantz Professional has unveiled the PMD620, their newest and smallest handheld portable recorder. It offers direct-to-MP3 recording in three quality levels, as well as fully uncompressed, CD-quality 44.1/48 kHz .wav format in 16 or 24-bit resolution.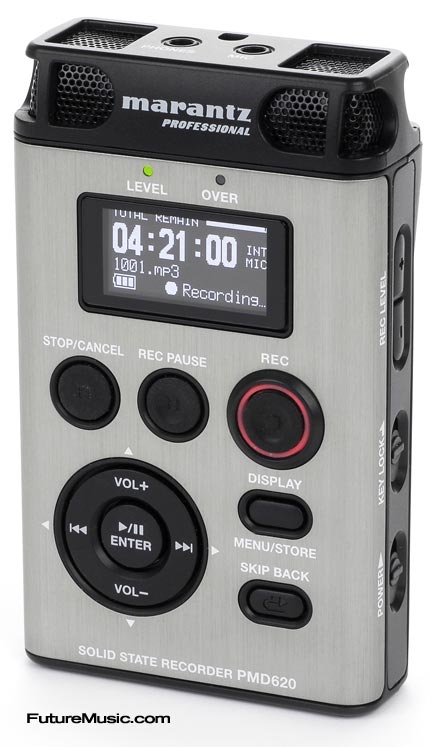 Sound quality is enhanced by the inclusion of two condenser microphones as well as line and external mic inputs, and an external mic output. The new PMD620 also utilizes the SD flash memory card for data storage (up to 2-TB or 2048 gigabytes), a first for the PMD Series of recorders.
Features:
» Solid State Recorder – Usable Media: SD/SDHC
» Recording Formats: MP3 – MPEG1 Layer III Compression, WAV – 16/24 Bit Linear PCM
» Recording MP3 Bit Rate: Stereo – 192/128/64 kbps, Mono – 96/64/32 kbps
» Sample Rate: 44.1/48khz
» Number of Channels: 2 (Stereo) / 1 (Mono)
» Frequency Response: 20Hz ~ 20kHz
» Signal-to-noise Ratio: MIC – 68dB, LINE – 80dB
» Total Harmonic Distortion at 0UV: MIC – 0.06%, LINE – 0.02%
» Dynamic Range: 81dB
The Marantz Professional PMD620 is available now for $600. More information on the Marantz Professional PMD620.