Arturia's Analog Factory 2.0 Now Shipping
Arturia has announced that Analog Factory 2.0 is now shipping. This update is free for all registered owners and features numerous improvements and bug fixes.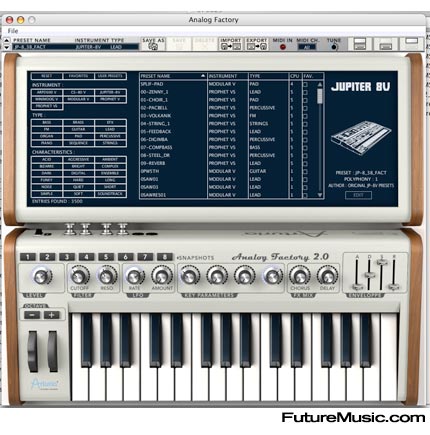 New Features:
• Includes 3500 sounds instead of 2000
• Now includes presets from the Jupiter-8V
• Improved effects management
• Vst 2.4 \ Cubase 4 ready
• Main bug fixes:
— Preset switching has been improved to avoid any problems whilst browsing presets and playing simultaneously
— Improved loading time
— Hanging notes have been eradicated when used within a sequencer
— The preset database has been updated to avoid presets with same name and/or sound
— Fixed a bug in the minimoog engine : on mac intel, some preset parameters could go out of range and cause a bad sound
— The GUI (Graphical User Interface) has been improved
— Preferences are now saved automatically after each change to avoid any loss of midi configuration or snapshots
Arturia's Analog Factory 2.0 is now shipping for $249 / €199. The update is free for registered users. More information on Arturia Analog Factory 2.0.