Weekend Fun: Volkswagen MicroBus Pool Table
Here's one of those absolutely brilliant ideas, that could have only been inspired by psychedelics. Some ingenious custom car builder turned a Volkswagen MicroBus into a pool table. We can't tell you how exactly he made the leap because the current owner never bothered to inquire. Instead he plunked down $8000 grand to tow this one-of-a-kind vehicle to his home, where he dons a tie-dye and racks 'em up.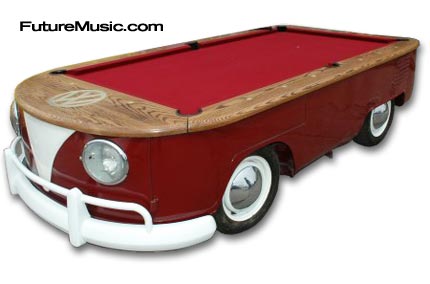 The VW Bus has been completely restored with lustrous white and burgundy paint. The table has been modded to fit the chassis with real wood and a maroon felt top. Cues, racks and balls are all stored conveniently in the engine compartment in the rear. You may be thinking that some people have too much time on their hands, but we're thinking this is just too cool, and should be the centerpiece to a pub in Woodstock, NY.