M-Audio Announces MicroTrack II Handheld Digital Recorder
M-Audio has announced the MicroTrack II handheld digital recorder.The MicroTrack II contains an extended input gain range, analog input limiter, 48V phantom power, headphone monitoring of S/PDIF, and other enhancements, that build on the MicroTrack's original feature-set.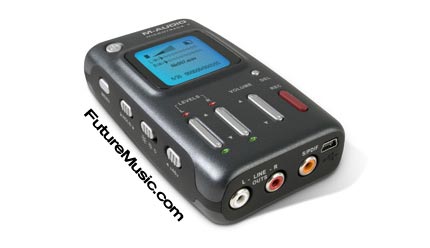 The extended input gain range and built-in analog input limiter for capturing high-SPL sources without clipping are only two of some of the new features in the MicroTrack sequel. The high-speed USB 2.0 connection yields a faster file transfer rate. The ability to place markers in BWF files during recording makes it easy to find a specific event while editing the content. A user-created folder structure makes it possible to organize and locate files in the field.
The MicroTrack II overcomes the limitations of FAT32 by enabling users to create seamless multi-part WAV recordings beyond 2GB in size. Users can also dim the backlight to save battery life and be discreet in a dark room, as well as let the recorder hibernate, then wake it up to record on a moment's notice. A CompactFlash test ensures that the card can record at the desired settings.
Like its predecessor, the compact MicroTrack II recorder lets users record WAV and MP3 files to CompactFlash cards or Microdrives through balanced line inputs or built-in microphone preamps—then drag and drop recordings to a computer for immediate editing or Web posting.
The recorder features a variety of connections to facilitate diverse applications. Professional-quality preamps with full 48V phantom power work with condenser microphones to record up to 24-bit/96kHz, making the unit ideal for songwriting, recording practice sessions and gigs, and capturing film-quality sound effects in the field. Balanced 1⁄4″ TRS line inputs also make it easy to take a feed directly from a studio or club mixer. S/PDIF input means that users can record the output of digital mixers and perform transfers from other digital recording/storage devices with pristine quality. Regardless of how users choose to record, they can monitor via the 1/8" stereo headphone jack or RCA line outs.
The MicroTrack II includes a T-shaped stereo electret microphone, earbuds, 1/8" stereo extender cable, protective carrying case with mic pouch, power supply unit with USB connector, and cables. The unit is powered via a lithium-ion battery that facilitates recording for a claimed 4.5 hours on a single charge, or about three hours with phantom power engaged. Users can also employ third-party USB battery packs for additional hours of recording. Recharging the internal battery is as simple as connecting the MicroTrack II to a PC or Mac via USB, or using the included power supply.
The M-Audio MicroTrack II will cost $499.95 when it bows sometime in December. More information on the M-Audio MicroTrack II.