M-Audio Announces Fast Track Ultra – 8 x 8 USB Audio Interface
Never one to rest on their laurels, M-Audio has announced a new audio interface, the Fast Track Ultra. The 8 x 8 audio interface features USB 2.0 connectivity, the MX Core DSP mixer, MIDI and four preamps with Octane technology.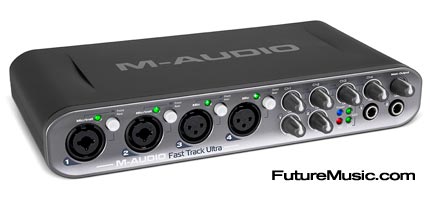 Designed for mobile and desktop production, the compact Fast Track Ultra interface utilizes high-speed USB 2.0 technology to deliver 24-bit/96kHz audio resolution throughout the recording and monitoring process.
The Fast Track Ultra introduces M-Audio's brand-new MX Core DSP technology. The MX Core mixer employs an array of eight individual DSP cores to deliver near-zero latency, effects and a matrix for channel routing options – accessible via a control panel that utilizes a separate mixer for each pair of outputs. MX Core technology enables users to apply reverb while tracking vocals to get more out of an artist's performance, or take advantage of the two independent headphone outputs to create separate monitor mixes when recording multiple musicians, all without burdening the computer. The mixer provides for up to a 16 x 8 configuration, allowing users to connect microphones, synths and other outboard gear to any of the interface's hardware inputs, then mix them with the eight audio streams coming from the computer without taxing the CPU.
The Fast Track Ultra features four preamps with M-Audio Octane technology, creating a premium front end that delivers exceptional audio clarity. Users get professional low-noise, high-gain preamplification with enough channels for a variety of miking applications. Features include +48V phantom power for condenser mics, signal/peak LED indicator lights and a pull-out gain knob that activates a 20dB pad for recording at high volumes. The first two inputs also accept instrument-level signals.
The Fast Track Ultra provides a complete recording solution, with six channels of analog inputs and outputs plus 2-channel digital S/PDIF I/O. Unlike most USB interfaces, the unit features two dedicated inserts on the first two channels, facilitating the insertion of outboard processing before A/D conversion. Easy connection via a single USB 2.0 cable delivers audio/MIDI communication with a computer, as well as bus power*. Compatibility with most audio software means seamless integration into any studio setup.
M-Audio's Fast Track Ultra will cost $449.95 and be available in December. More information on the M-Audio Fast Track Ultra.