Korg's Kaossilator Now Available In The UK & Japan
Korg announced their new Kaossilator pocket synth in September, but it has only been officially released in Japan and the UK. Even so, the device has created a online ground-swell thanks to several quirky videos that have appeared on YouTube.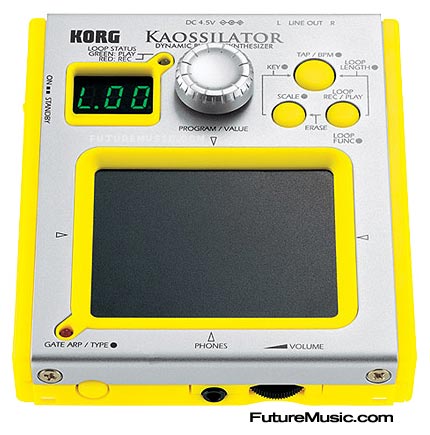 The Kaossilator incorporates a synth sound along with innovative performance features into an ultra-compact unit. Anyone can instantly play musical phrases by simply tapping or sliding their finger across the Kaossilator's touch pad – no music knowledge necessary! (Isn't that why music pretty much sucks today?? —Ed.) The hand-held Kaossilator runs on batteries for the ultimate in portable music fun.
Interestingly, the Kaossilator is not just for electronic music. Several videos have popped up showcasing rock, pop, and blues. Yes blues! Apparently, even machines feel the weight of the world on their shoulders….
The Korg Kaossilator is now available in the UK for £119.00. More information on the Korg Kaossilator.
The Future: It appears Korg will a major winner on their hands with the Kaossilator. If the hapless American division of Korg can get their act together long enough to drop the unit in the US market before the holiday season, and not wait for NAMM, then Korg could reap major profits in Q4.