Slacker Readies Portable Players For Its Customized Radio Business
Slacker is set to release their handheld players any day now. The hardware is a big part of its strategy to own a distinctive vertical in the digital music landscape. Slacker, a San Diego, California concern, has piqued the interest of the online music industry with its customized radio model. The company first crossed our radar in March when they announced an internet-based radio solution that allows users to create their own custom stations and listen to them wherever online or via their portable player.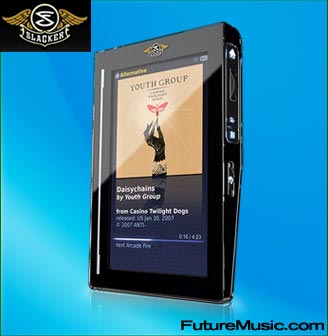 The player, an intregal part of their "Personal Radio" ecosystem, has raised eyebrows. Can a custom radio station support its own ecosystem? Or is this merely a feature in a bigger playground such as iTunes?
The Slacker players will be available in three flavors, 2GB/15 stations, 4GB/25 stations, and 8GB/40 stations. Users can access the catalogs of all the major labels and several prominent indies to create their own stations.
Dennis Mudd, CEO of Slacker and a co-founder at MusicMatch boasted, "with the Slacker Portable Radio Player, for the first time, people can play their personalized radio stations wherever they go. We've created a groundbreaking portable music device that lets people play their favorite music without working at it, whenever they want to listen."
The Slacker players cost $199.99 (15 stations, 2GB), $249.99 (25 stations, 4GB) and $299.99 (40 stations, 8GB). The players access surrounding WiFi connections, but they can also play stations when off the network. The team is also considering additional connectivity via satellite networks. More information on Slacker.
The Future: Chances are not good for Slacker to make it through 2008 unless they have deep pockets. Their players are expensive, and one dimensional, and their whole model can basically be duplicated by Apple with a "Make Your Own Radio Station" button. Frankly, even Sirius' new (and unproven. —Ed.) Stiletto2 is much more compelling than Slacker and it only costs $30 bucks more for the player, plus the monthly subscription.