Weekend Fun: Groundsurf
The GroundSurf, a three-wheeled skateboard with an electric motor between the two front wheels, has been announced by the inventor, Frenchman Stephane Pelletier. Using built-in sensors you can control it by either leaning forward to accelerate, or backwards to slow down/brake. Plus, it has Bluetooth. Bluetooth??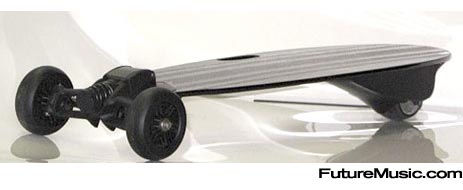 Yes, Bluetooth. You can actually control the aforementioned acceleration/braking with a Bluetooth-capable cellphone. And you thought motorists on their mobiles were bad enough…
It may appear to look like a motorized skateboard, but Pelletier claims the GroundSurf is more akin to a surfboard due to "that surf feeling" you get riding it. "It's been tested and developed with professional surfers. The back is a very specific truck that moves in different dimensional ways. Compared to a skateboard, it's not moving the same way at all. You really have to try it to believe it," Pelletier reveals. (Carver has developed a non-motorized version of the surf-skateboard concept that has great "surf feel" as well. If you're into the surfing on land vibe, it's definitely worth checking out. —Ed.)
Pelletier's concern, Ratleads, hopes to have the first GroundSurf commercially available sometime next year for about $2000. More information on Ratleads Groundsurf.