Paul Stubblebine Mastering & Bottlehead Announce New Audiophile Record Label Concept
Paul Stubblebine Mastering and Bottlehead Corp. have announced "The Tape Project," a provocative new record label for audiophiles. The Tape Project is releasing a series of analog reel-to-reel tapes that offer the affluent audiophile an analog listening experience that comes as close as possible to that of hearing the original masters.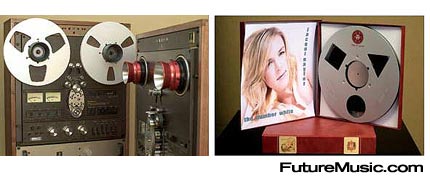 Slated for ten releases per year and sold primarily on a subscription basis, the 15ips half-track stereo, reel-to-reel recordings encompass a wide range of musical styles, the first of which include Classical, Jazz, Blues, Americana and Roots music. The company is recommending tape machines and specifications for playback, as well as offering its own specially modified tape decks with custom valve components from Bottlehead Corp.
"The only two requirements for the music that we release are that the master must exist on analog tape and that the music be great. That it be music that moves the listener. That it be music that can stand the test of time, and continue to bring satisfaction for years," stated Paul Stubblebine, one of the founders of the company along with mastering engineer Michael Romanowski, and Bottlehead Corp owner, Dan Schmalle.
The company has already secured the rights to release their 10 recordings:Â 
1) 'The Number White' by jazz singer Jacqui Naylor
2) Dave Alvin's 'Blackjack David'
3) 'Arnold Overtures' original music by Malcolm Arnold with the London Philharmonic Orchestra recorded by Grammy-Winning engineer and audiophile equipment designer Keith Johnson
4) The album that established Robert Cray as a strong new voice in the blues 'False Accusations'
5) Raphael Fruhbeck de Burgos with the New Philharmonia Orchestra performing Albeniz – Suite Espanola
6) David Oistrakh and the London Symphony Orchestra with music by Bruch and Hindemith
7) Eiji Oue and the Minnesota Orchestra performing Exotic Dances from the Opera (Saint-Saëns, Strauss, Rabaud)
8) Bill Evans 'Waltz for Debby' live at the Village Vanguard in 1961
9) Mose Allison in 1959's 'Creek Bank' engineered by Rudy Van Gelder
10) The incomparable Sonny Rollins in 'Saxophone Colossus.'
There are two tiers of subscription costs for The Tape Project: $1200 for a selection of six of the ten releases a year, or charter subscriptions of $2000 a year to get all ten releases. Each album will be also sold individually for $329 to non-subscribers. Each tape release comes in a custom designed box with full-size color artwork and custom tape flanges inscribed with serial numbers for charter subscribers.
Michael Romanowski, PSM mastering engineer, revealed, "We have assembled the highest quality duplicating system that has ever been attempted. The result, for those with ears to hear, is the most involving and satisfying experience that has ever come from reproduced music. I work with master tapes everyday, and these releases are sonically everything that a master tape has to offer. And now listeners get to have this experience in their own home."
Noting specifics about the playback systems, Dan Schmalle added, "In order to play these tapes correctly, a machine must meet the following requirements: It must play15 IPS half track stereo, and must be set to the IEC curve — formerly known as the CCIR curve. There are many machines that meet these specs, but many that don't. We have looked at the various machines made for home use and decided to adapt the Technics RS1500 family." The company offers an on-line database of tape machines that meet the requirements.
The tape machines offered by The Tape Project, approximately $7500 each, are supplied with a custom playback head designed for us by Flux Magnetics, acknowledged as the highest quality tape head manufacturer in the world. Generally, reproduce heads are designed as some sort of compromise according to the speeds at which they will be expected to operate. Schmalle asked Flux Magnetics to design a head for The Tape Project strictly optimized for 15 IPS, with no compromise for other speeds. The resulting head has response extended well beyond that of the stock heads on both ends of the audio spectrum.
The Future: Although this is clearly a marketing endeavor for Bottlehead, and a promotional initiative for Paul Stubblebine Mastering, the provocative concept is a dynamic way to sell music to audiophiles who are not fazed by the exorbitant costs involved. It could also be a viable strategy for future enterprises who want to cater to the "money-is-no-object" crowd.
The Tape Project has also started an online forum for customers to request upcoming releases. More information on The Tape Project.