$55,000 Claims To Get You The Most Powerful Tube Amplifier Ever Built
NAT Audio has announced the Magma, which they claim is the most powerful tube amplifier ever built. With 160 watts of pure tube power, the NAT Audio Magma is capable of blasting its raw power at 4 or 8 ohms with a claimed frequency response of 10-10,000 Hz. NAT Audio employees three different tubes: the 6N1P-EV, the 6N30P-DR, and the Eimac 450TH to generate the juice.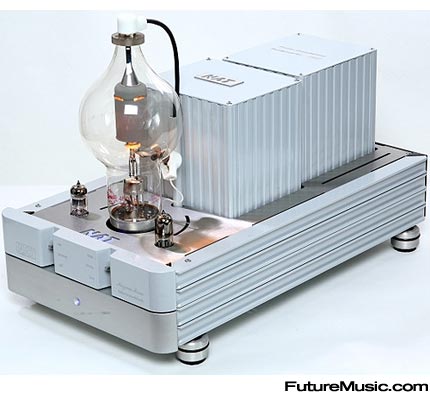 Features:
• Single Ended pure class A mono block power amplifier
• Eimac power industrial type direct heated triode – 450TH (N.O.S.)
• DC coupled all tube circuit (only output transformer without capacitors)
• CE comfortable
• 160 W of pure class A @4ohms or @8ohms
• Low global feedback configuration with damping factor of 20
• High capacity in power supply resulting to over 500joules of energy storage
• Custom designed power transformer of 1000W encapsulated-low density
• Custom designed output transformer of 1000W encapsulated- last generation
• Full double stabilization of high voltage for driver tubes
• 6N1P-EV & 6N30P-DR long life military grade tubes for driver purposes
• Full automatic bias with automatic-adjust (no any adjustment).
• Variable bias (two mode with 40W & 160W of output power)
• Balanced DC power to supply filament of output tube
• Balanced regulated DC power to supply filament for driver tubes
• Both input and output WBT connectors
• Input wired with pure 6N silver (99,9999% of silver purity)
• All aluminum modulated chassis with double 25mm thick front panel
In order to handle this power, the Magma utilizes an unusual direct-heated NOS amp design that runs into a DC-coupled all-tube circuit, allowing the amp to achieve a damping factor of 20. In addition, the power and output transformers are rated for 1000 watts, and the power supply capacitance is over 500 joules.
Specifications:
• Type: Single Ended Class "A"
• Power Output: 160 Watts @ 4 & 8 ohms; 1 kHz
• Frequency Response: 10 Hz to 100 kHz; -3dB
• Input Impedance: 100 kohms
• Input Sensitivity: 2.7 V RMS for full power output
• Gain: 22.50 dB at 8 ohm
• Rise Time: 5 microseconds
• Noise: 105 dB below rated output
• Phase Status: Non inverting (0 degrees)
• Tube Complement: 1x 6N1P-EV, 1 x 6N30P-DR , 1 x 450 TH
• Power Requirement: 110 VAC or 220 VAC @ 50 to 60 Hz, 450 VA
• Dimensions: 11.8″ wide x 25.2″ deep x 14.2″ high
• NET Weight: approx. 88 lbs per piece
Now here's our favorite part…
The NAT Audio Magma weighs in at 88 lbs. and costs $55,000 for a pair of the monoblock amplifiers. Oh, yeah baby…makes The Tape Project (below) look like a bargain! More information on NAT Audio Magma tube amplifier.