Sony Jumps Into Profitable Premium Audio / Video Cable Game
Sony has jumped into the high-end audio/video cable bamboozle market by announcing a new line. We can't tell if this is indeed their own designs, or a licensing deal, but Sony claims their cables are constructed from 24-carat gold plated connections, triple shielded wires and 99.996% oxygen free copper.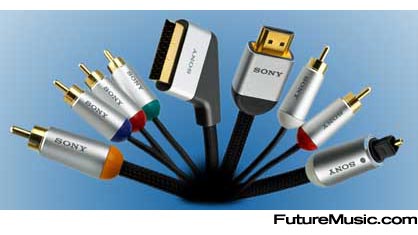 The cables complement the midrange HDMI cables already introduced by Sony in April 2007. Their available products include Digital HDMI, Component Video, SCART, Optical Digital Audio, Coaxial Digital and Stereo Audio cables in 1, 3 and 5 meter lengths.
Now here's the kicker: Sony has taken it upon themselves to "inform" the audio/video buying public that 15% of their budget should be spent on Sony cables. That wouldn't be because you have a 400% mark up, would it?
No pricing or availability has been announced. More information on Sony Audio / Video Cables.