112dB Software Releases Morgana – Musical Soft Sampler
112dB Software has released Morgana, a representation of an early digital sampler, designed to be musical rather than accurate for Windows. Morgana offers extensively modeled VCFs, amp and filter envelopes per-voice, and features a unique interpolation method which enhances digital artifacts and a preamp to shape each sample, simulating a primitive analog-digital stage.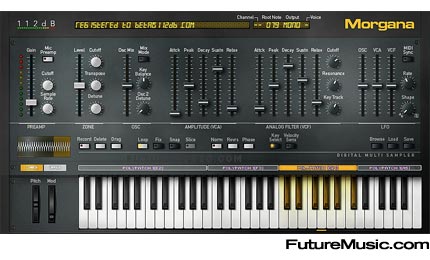 According to 112dB, when sampling technology was in its infancy, samplers lacked the power required for high-quality interpolation and filtering. Analog-digital converters were primitive, and the sounds that went into these machines came out grittier and darker, but also warmer and punchier. The same qualities that degraded the audio from a technical standpoint had the effect of enhancing the audio from an artistic standpoint.
112dB has attempted to recreate the musical sampler. Mostly because there's just not enough software samplers on the market. Morgana is also capable of sampling, either through its own inputs or through an innovative technology entitled SampLink, which effectively allows Morgana to sample from any track in a multitrack environment.
112dB Software's Morgana is now available for €169 in the WinXP/Vista VST 2.3/2.4 format. A free 30-day demo version is also available for download. More information on 112dB Software Morgana Soft Sampler.