Weekend Fun: Worst Star Trek Merch Of 2008
Well Trekkies, it just doesn't get any worse than this…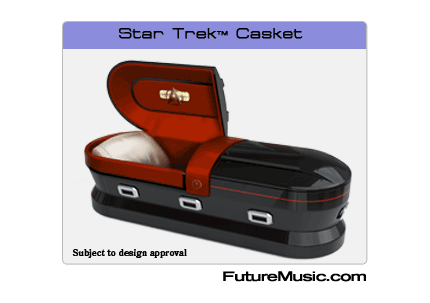 For 2008, the Star Trek licensing department has hit three new lows (…not that we follow Star Trek merchandise, but when these hit the news desk just days apart, you've got to do something. —Ed.).
You have to be some kind of special dork, to want to leave this earth for the final frontier in a Star Trek coffin. Yes folks, you can be flower fodder in your very own Photon Torpedo…we could go on, but I don't think we could top the crack marketing team at Eternal Image:
"For the millions of fans on our planet and beyond, our new line of Star Trek urns, caskets, monuments and vaults will be an important discovery indeed. After ten movies and five television series, phrases like "Live long and prosper," "Resistance is futile" and "Space: the final frontier" have become part of our global vocabulary. The Star Trek Casket styling has been inspired by the popular "Photon Torpedo" design seen in Star Trek II: The Wrath of Kahn. Caskets will be available in 2008. (So you better wait to kick the bucket for another few months… —Ed.)
The new Star Trek Urn will feature a bold design reminiscent of the 24th century styling of the United Federation of Planets and Starfleet. Urns will be available in late 2007."
But Wait! There's More!!
The brain trust at Golfsmith have developed a USS Enterprise putter. Again, we don't make this stuff up…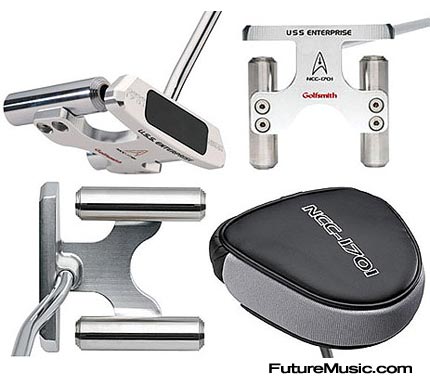 The Golfsmith Limited Edition U.S.S. Enterprise NCC-1701 Putter will be available just before the holidaze for a mere $250 bucks.
"A pop culture icon that offers unprecedented forgiveness!" (There's throw-up in the back of my throat… —Ed.)
"This fully USGA conforming, officially licensed collectible shares its looks with the famous Star Trek U.S.S. Enterprise NCC-1701 starship from the classic television series. But its out-of-this-world look is not just a novelty. With a moment of inertia (MOI) of 6818 g-cm² — 40% higher than average putter MOI — the NCC-1701 is the most forgiving putter head we offer. Most of its weight is positioned in stainless steel heel and toe weight cylinders which give the CNC-milled putter head its unique look — and also serve as alignment aids. The aluminum body features an advanced urethane face insert for soft, solid feel at impact. This limited edition putter comes assembled with a double bend shaft and Winn grip, and includes a mallet headcover. Only 1,701 putters will be produced and each will be numbered."
More information on Star Trek caskets, urns and putters.