M-Audio Releases Studiophile Q40 Headphones
M-Audio has announced their first headphone offering, the Studiophile Q40 closed-back dynamics, which are tweaked for bass-heavy music. M claims the Studiophile Q40 headphones utilize professional-grade dynamic 40mm drivers that deliver full-range specs and sonic detail. The combination of vented diaphragms made of low-mass treated mylar, neodymium magnets and copper-clad aluminum voice coils offers efficient performance for enhanced bass. These elements come together in M-Audio's custom enclosure, which has been specially tuned to further extend low frequencies.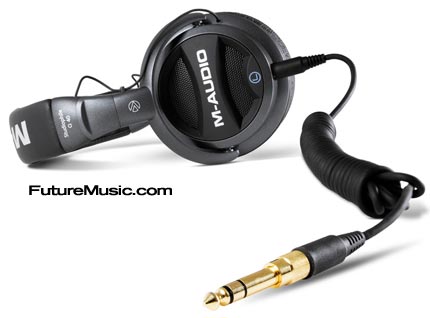 The Studiophile Q40 headphones feature sealed backings and comfortable ear cups that completely surround the ears, resulting in excellent isolation from outside noise. This enables users to hear more detail at lower volumes, which protects their hearing while tracking, mixing or listening in any noisy environment.
In addition to lightweight construction, comfortable earpads provide hours of listening ease. The sturdy frame is also collapsible for easy travel and mobile studio use. The included storage bag protects them from dust and damage. The Studiophile Q40 headphones feature a detachable 3-meter cable with 1/8" plugs on each end. The ability to replace this cable helps protect users' overall investment in the event of cable failure. A 1/4"-to-1/8" adapter is also included.
In addition to the claimd 10Hz – 20kHz frequency response, the Studiophile Q40 headphones feature a sensitivity of 116dB SPL (1mW IEC318) and rated impedance of 64 ohms. Weight without cable is .5 lbs. (.25 kg).
M-Audio's Studiophile Q40 headphones are available now for $179.95. More information on the M-Audio Studiophile Q40 Headphones.