Prince Threatens To Sue Fan Sites
Prince is giving thanks to the many fan sites online that worship prior to Thanksgiving, by serving them with cease and desist letters. Fan sites dedicated to Prince say they have been served legal notice to remove all images of the singer, his lyrics and "anything linked to Prince's likeness."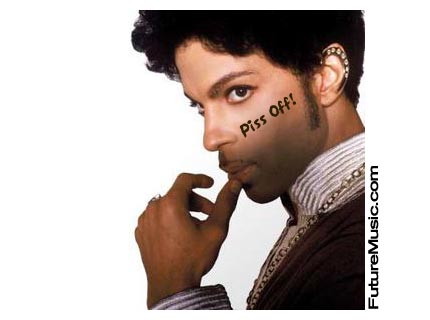 The move was a shock to many of his followers and came two months after Prince threatened to sue YouTube and other major Internet sites for unauthorized use of his music and image. Why Prince is targeting fan sites directly is beyond comprehension. Several of the more prominent sites have decided to fight back. "We strongly believe that such actions are in violation of … freedom of speech and should not be allowed," said a statement from prince.org.
A company helping Prince control his image and music on the Internet said the fan sites had spun the story so that it was "incorrect and misleading." Some Prince fans were surprised at the artist's threat to sue, pointing out that the 49-year-old was seen as a pioneer of online music distribution. He won an Internet award last year for "reshaping the relationship between artist and fan. The irony is that someone who has won that award is now challenging the very ethos of the Internet," said a spokesman for Prince Fans United. Prince.org now features an image of a hand print with "pfu" written on it, said the singer had demanded the removal of fans' photographs of Prince-inspired tattoos and vehicles displaying Prince-inspired license plates.
They urged Prince to reconsider his decision, but vowed to defend their position in court if need be. "The law clearly provides for displaying of images of a celebrity's likeness for newsworthy events or matters which are considered to be public interest," they said.
He performed with the word "SLAVE" scrawled across his cheek in protest against his then record label and changed his name to an unpronounceable symbol. However, we think he should now sport one that simply says: Piss Off!