Pioneer Announces CDJ-400 – MIDI Controller / CD Turntable
Pioneer has announced the new CDJ-400, yet another CD "turntable" for aspiring DJs. The 400 takes inspiration from Pioneer's flagship CDJ-1000 series, and allows DJs to play their MP3 collection off CD-R/RW discs as well as music from mass storage USB devices, such as USB keys, external hard drives and portable media devices. The deck also features Scratch Jog Effects, three creative scratch effects, as well as a new Loop Divide function.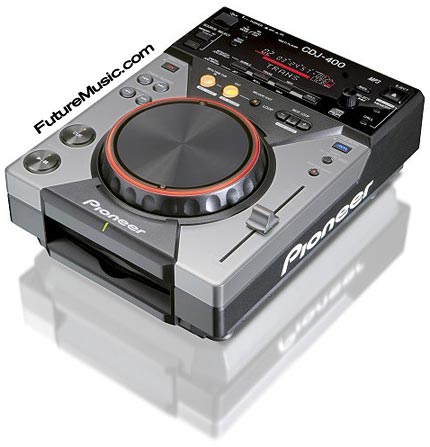 Virtually all of the button and slider functions can send MIDI data via USB output, making it possible for the decks to control DJ software and other applications, such as Pioneer DJS or Serato Scratch LIVE on a PC or MAC.
Features:
• Digital media playback
The CDJ-400 handles CD Audio and MP3 files from CD, while USB connectivity lets DJs draw upon sound libraries on external storage devices. Through the new push-selection Rotary Scroll Wheel and Back Button, users can navigate files and folders as simply and quickly as on many of the leading portable media players available today.
• MIDI control via USB
The CDJ-400 can control DJ and music application software. This is achieved by simply selecting the PC Source Select button, so that virtually all of the deck's buttons and slider can send MIDI control data via the PC USB connection. For example, a DJ can connect the CDJ-400 to a PC or MAC and play and manipulate files from their favourite DJ application software – such as Pioneer DJS or Serato Scratch LIVE – and this doesn't even require a time-code disc to be used in the deck.
• New illuminated Jog Wheel
With a design inspired by the club standard CDJ-1000 Jog Wheel comes the CDJ-400's 115mm illuminated platter. You can choose from six different patterns of Jog Wheel illumination and even personalise your own CDJ 'slip mats' or jog sheets.
• New Scratch Jog Effects
In addition to the Digital Jog Break Effects (JET, WAH and ROLL) found in CDJ Mode, Pioneer serves up Scratch Jog Effects, BUBBLE, TRANS and WAH, in vinyl mode. BUBBLE simulates a scratch technique and is great for spin backs, while TRANS is like rhythmically transforming with a mixer's cross fader and WAH resembles the guitar Wah pedal.
• New Beat Loop Divide
Making the magic of live mash-up even more manageable, the funky new Beat Loop Divide facility rhythmically dices loops to fashion beats with drama, intrigue or whatever your desired effect. It is easily adjustable using its (- and +) buttons during loop playback, thereby creating loops with mind-melting, dancefloor-destroying twists.
• Hot Loop and Beat Loop
Besides the Beat Loop Divide, the CDJ-400 lets DJs create four-beat Beat Loops and Hot Loops. For the latter hit the Hot Loop (In/Out point) buttons during a loop to retrigger the loop. Up to 10 Cue/Loop points per disc, for up to 920 discs, can be stored in memory and transferred by usb key between CDJ-400s.
Additional Features:
• Tempo range settings available: ±6%, ±10%, ±16% and WIDE
• Resume function – restarts playback of a disc from the point at which it was most recently ejected
• Digital Output – connect to Pioneer's range of digital DJM mixers or other studio equipment
• Text Mode – displays CD-TEXT and ID3 tag information
• Reverse play – instant reverse play
• Shock-Proof Memory and Pioneer Oil Damper Float construction
• High-quality 7×5 dot matrix display
Pioneer's CDJ-400 will be available in Europe sometime during December for €550. More information on the Pioneer CDJ-400.