GForce Releases Virtual String Machine – 17 Classic String Machines In One Plug-In
GForce has released Virtual String Machine, a new vintage string machine collection for Mac OS X and Windows. For Virtual String Machine (VSM) GForce sampled 17 classic and rare string machines to deliver over 2.5GB of data and 700+ totally authentic patches.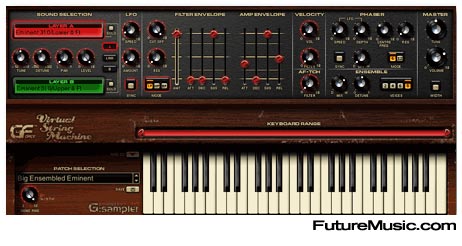 VSM captures many of the classic string sounds that range from the first commercial string ensembles (Eminent 310 & Freeman String Symphonizer) through to the highly lauded Solina, Elka Rhapsody, Logan String Melody, Korg PE2000 and many more. With VSM you can recreate all of those golden string machine tones from yesteryear – and with the comprehensive feature set, plus a two-layer option, it's now possible to create your own hybrid instruments too. With a new sample playback engine, G-Sampler, plus GForce's very own phaser and additional ensemble units all included, VSM takes the classic instruments on entirely new sonic journeys, and ones that were simply not possible with the original hardware units.
VSM Instrument List:
ARP Omni, ARP Quartet, Crumar Multiman, Elka Rhapsody, Eminent 310, Freeman String Symphonizer, Junost 21, Korg PE-2000, Logan String Melody, Oberheim OB-8, Oberheim Xpander, Moog Opus 3, Polymoog, Roland RS202, Solina, Yamaha SK-15, Yamaha SS-30
Features:
• Sounds from 17 classic and rare string machines
• Over 2.5GB of data
• 66 individual sample sets
• 49 notes, each individually sampled and looped
• Dual Layer & Split Keyboard capability
• Vintage style Ensemble & Phaser effects
• Lowpass, Bandpass & Highpass Resonant Filter Section
• Two Envelope Generators
• Pitch LFO
• Dynamic control including filter aftertouch
• 700+ Patch library
Virtual String Machine costs $129 and is available in the following formats: AudioUnits/MacOSX, VST2/MacOSX, RTAS/MacOSX, VST2/Windows and Standalones (MacOSX and Windows). More information on GForce Virtual String Machine.