Blue Cat Audio Releases StereoScope Pro & Multi – Stereo Image Analysis Plug-Ins For Windows
Blue Cat Audio has released the StereoScope series, which consists of two new stereo image analysis DirectX and VST plug-ins for Windows. Both plugs analyze the stereo image in details and provide a visual representation of the signal in the stereo field, while also allowing the detection of potential mono compatibility issues.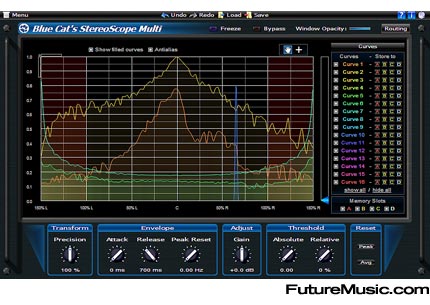 Blue Cat's StereoScope Pro has specific features for single track analysis with MIDI and automation output, while Blue Cat's StereoScope Multi uses Blue Cat Audio's unique data sharing technology to analyze and monitor the stereo image of several audio tracks on a single screen.
Blue Cat Audio StereoScope Pro and Multi plug-ins are available as separate products or within the Blue Cat's StereoScope Pack Bundle. Demo versions are available for downloaded. Blue Cat's StereoScope Pack costs $132 / €99 and is available now. Some introductory price promos are going on now. More information on theBlue Cat Audio StereoScope Pack Bundle.