Puremagnetik Releases Neon Stereo – Artist Signature Series Micropak
Puremagnetik has announced the first in their line of Artist Signature Series Micropaks. Puremagnetik enlisted Australian producer Neon Stereo to create 35 expertly crafted audio effect racks for Ableton Live.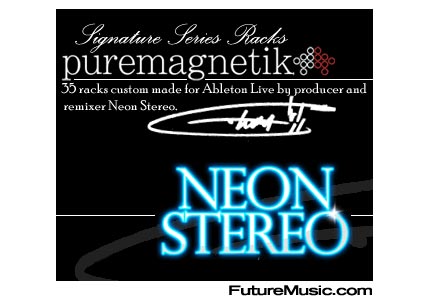 With remixes for heavyweights such as Steve Angello, Andy Caldwell and DJ Ricky Stone alongside a big line up of upcoming original productions on premiere labels such as System Recordings, 852 Records and DJ Zimbardo's Benchmarc Records, in 2007 Neon Stereo has claimed his place as a world class producer.
Better known to the Ableton Live community as 'sweetjesus', for the last 3 years he has been an internal tester for Ableton, an active member of the community and regarded as one of the foremost experts when it comes to Ableton Live.
"During my day to day music production work, there's certain methods and techniques I always rely upon to radically transform the sound very quickly," Neon waxes. "The 35 racks incorporate many of my effects methodologies and also some of them have let me push myself and Live's effects to the next level. Individually the racks work great in the studio and their functionality has been streamlined for live usage by taking advantage of Ableton Live racks. Together they combine as a modular sound design unit, with each rack becoming like a 'node' which you fine-tune using the Macro controls of the racks they are in."
Puremagnetik has a unique content subscription proposition for its customers. If you use Ableton Live, it's definitely worth a look. More information on Puremagnetik's Neon Stereo Artist Signature Series Micropak.