Cyrus Audio Releases Cyruslink Link Mini 2.1 iPod Dock Sound System
Cyrus Audio, a UK concern, has released the Cyruslink Link Mini 2.1, iPod sound system. I know what you're thinking, wow FutureMusic, yet another iPod dock to not get excited about… Well, we thought we'd mention it because the unit is getting excellent reviews from critics and consumers alike.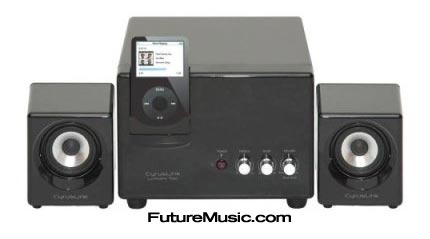 Designed to dock Apple iPod Nanos, iPod Minis, iPods, iPod Photos and iPod Videos using the standard Apple 30 Pin connector, the Link Mini combines a streamlined look with surprising sound quality. The Cyruslink comes with a handy remote that controls the iPod, as well as the volume, treble and bass. There is also an Auxillary Line Input to play music from other sources and an Line Output to connect other DMPs (Digital Music Players).
Features:
• High Performance 2.1 iPod Docking Platform
• Full function remote control
• Adaptors support G3-G5 iPodTM, iPod mini & nano
• Digitial Sound for iPod
• Recharge your iPod
• Aluminium speaker drivers
• Active subwoofer with adjustable Volume/treble/bass
• High gloss, piano-like surface
• High output power RMS 5 W x 2 & 10 W
• Tuned by Cyrus
The Cyrus Audio Cyruslink Link Mini 2.1 is only available in the UK at the moment and sells for £62. More information on the Cyrus Audio Cyruslink Link Mini 2.1.