Atomsplitter Audio Releases Pulsation Lite & Pulsation Plus Synths
Atomsplitter Audio has released two new wave synthesis programs, Pulsation Lite, a free pulse wave synthesis VSTi for Windows, and Pulsation Plus, a pro version.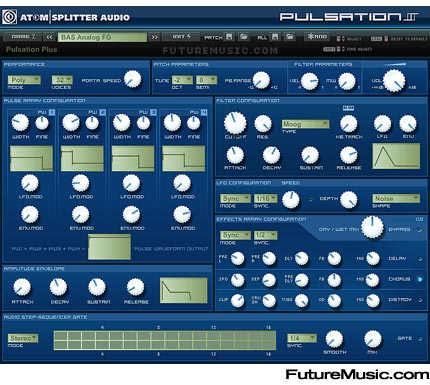 Pulsation Lite allows you to explore pulse wave synthesis in a simple and easy to use manner. Included are tuning, pulse width, effects and modulation options to further shape the sounds. Although limited to pulse wave synthesis you can create a wide range of sounds.
Lite Features:
• 4 pulse-waves each with LFO and ENV modulation options with visual graph for waveform shape
• 4 stage ADSR amplitude envelope with visual graph for envelope shape
• Keytracking filter with low-pass, high-pass, band-pass, band-reject, and peaking configurations
• 4 stage ADSR filter envelope with visual graph for envelope shape
• Tempo-syncable sine, saw, square, triangle, or noise LFO to modulate filter and pulse-widths
• Multi-effect delay, chorus, and distortion each with toggles and mix knobs
• Easy 1 knob velocity adjustment and modulation wheel amount adjustment
• Pitchbend range from -12 to +12 steps
• Tune from -5 to +5 octaves and 12 semi-tones per octave adjustment
Pulsation Plus is the big brother of the free Pulsation Lite. The project began as an experiment into pulse wave synthesis and lets you explore this with modulation options. Although limited to one form of synthesis there are a range of possible sound outputs which can be further changed with the included tempo sync'd LFO to control modulations and also built in effects to further shape and distort the sound. The synth is set out simply and is easy to edit and make your own sounds and there are also additional preset functions such as random and init modes to further make it easy to use. To demonstrate some of the possibilities of the advanced options over Lite, Pro-Sounds has made a bank of 64 presets only available in Plus.
Additional Features in Pulsation Plus:
• A bank of 64 presets from Pro-Sounds
• A randomizer
• A View of the pulse output
• Moog, Vintage and Formant filter modes
• S+H (Sample And Hold) LFO mode
• Tempo sync option for the delay
• Global effects mix amount and bypass
• A Single or Stereo trance gate with sync
• Control readout section
Atomsplitter Audio's Pulsation Lite is free and Pulsation Plus is $16 bucks. More information on Atomsplitter Audio Pulsation Lite & Plus.