Samplebase Releases Satellite Pro Sample Player
Samplebase, a new website that claims to offer thousands of high quality, production-ready Loops, Phrases, and Multisampled Instruments, has announced two sample-playback synth engines, Satellite (free for all Samplebase users) and Satellite Pro a application for Macs and PCs, that works as a stand-alone program or as a plug-in in AU, VST (Universal Binary on Mac) and VST (PC) formats.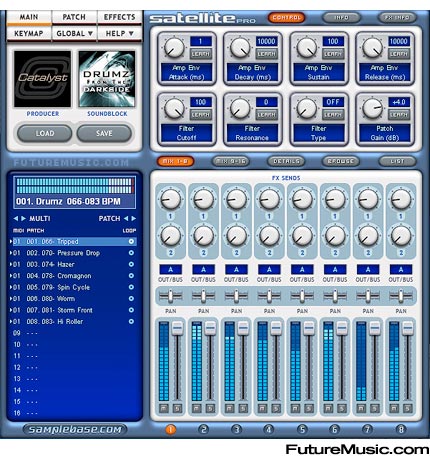 ILIO is the sound source behind Samplebase who is re-branded their virtual instruments, sample libraries, and creative tools for their website. Satellite Pro loads REX, Wave, and Acid files and includes features such as auto-mapping, a sample editor, batch processing, a patch editor with three ADSTR envelopes, an effects module, and much more.
Satellite Features:
• Available as a FREE download to all registered Samplebase users
• Plays back all Samplebase instruments and loops with no restrictions
• Cross-platform support including Windows VST and Mac VST/AU versions
• Up to 127 velocity zones per key
• Up to 1,024 voices of polyphony (CPU dependent)
• Automatic tempo detection and host sync
• 16-part multi-timbral with convenient key split and layering capabilities at the multi level
• Integrated 16-channel mixer with 2 effects sends and 2 aux (insert) busses per channel
• 8 "Quick Edit" control knobs available per patch for fast parameter editing and automation
• All interface controls automatable via standard MIDI controllers including min/max parameter range settings
• Ability to load up to 128 multis and 256 instrument or loop patches into memory simultaneously
• Integrated "List" screens for managing multis, patches and FX patches
• Standard MIDI file playback (including import/export functions) available per patch
• Loops automatically sync to the host tempo and can be transposed "on-the-fly" from the keyboard
• Real time, high quality time stretch automatically syncs/transposes audio loops to the host tempo and song key
• Ability to instantly set the musical key of all loops within a multi.
• Proprietary lossless compression reduces file sizes by up to 50% for faster downloads and disc space conservation
In addition to the above, Satellite Pro Offers…
Satellite Pro Features:
• Ability to load industry standard REX/RX2 loops, Acidized Wave files or AIFF/Apple Loops
• Dedicated Patch and Effects screens for full synth and effects parameter editing
• Access to 18 different effect types. Parameters can be edited, automated and synced to MIDI
• Access to the powerful synthesis engine with 10 filter types
• Access to dedicated multi-stage (ADSTR) envelopes for the Pitch, Filter and Amplitude sections
• Access to syncable LFO's (with multiple waveforms) for the Pitch, Filter and Amplitude sections
• Keymap screen with sample list and graphical zone editor for building and editing patches
• Advanced sample "Automap" and "Assign" functions make it extremely easy to build patches from scratch
• Integrated graphical waveform editor
• Powerful batch processor
• Graphical crossfade loop editor with industry-leading proprietary algorithm for creating perfectly seamless sample loops
• Artist/Developer picture or logo storable per patch along with detailed info "tags" and patch comments
Samplebase claims to continually add new Soundblocks, groups of samples for download, to the website. Peter DiStefano's mind-bending guitar sounds is captured in the Exopshere Experimental Guitar SoundBlock, which contains over 100 atmospheric guitar phrases and loops in 80, 100, and 120 BPM that will automatically time-stretch in Satellite or Satellite Pro to match the tempo of the song.
Another new SoundBlock is Katastrophic Kutz – Virtual Vinyl, a collection of royalty-free phrases scratched and decimated by turntablist Diggabeatz. Unlike many scratch libraries, each of the 300 loops and one-shots in Katastrophic Kutz was custom-made for this library, so users don't have to worry about "uncleared" samples. All phrases and FX used are also included in their original form, so users can combine these samples to create authentic scratch technique.
Catalyst Audio's Beatdown – Hard Hitting Drums have been tracked with grimy, vintage gear in a big live room. Many of the 33 live drum loops include fills, and the SoundBlock also contains 72 individual drum hits from the large kit used for the Beatdown loops. As with all Samplebase SoundBlocks, all loops can be easily adjusted to the host tempo using Satellite.
Samplebase's Soundblocks cost $29 bucks each, Satellite Pro will set you back $149. However, the company is running a $99 Satellite Pro promotion through November 11, 2007. More information on Satellite Pro and Samplebase.