Digidesign Announces Mbox 2 Micro
Digidesign has announced the Mbox 2 Micro, an ultra-small USB Pro Tools LE solution that enables playback, editing, sequencing, and mixing on the go.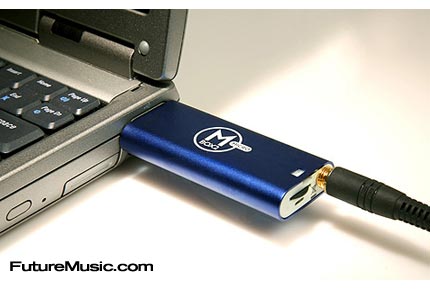 The new Mbox 2 Micro, the smallest member of the Mbox 2 family, enables Pro Tools users to edit, sequence, and mix sessions created on Pro Tools|HD, Pro Tools LE, and Pro Tools M-Powered systems on the go, as well as compose music with virtual instruments and loops.
About the size of a typical USB flash drive, Mbox 2 Micro offers high-quality sound, a 1/8-inch stereo output for headphone or speaker monitoring, and a volume wheel for quick adjustments. While it doesn't offer any audio inputs, Mbox 2 Micro does come with award-winning Pro Tools LE software, Bomb Factory and DigiRack plug-ins, and Digidesign's Xpand! sample-playback/synthesis workstation, enabling you to work with Pro Tools sessions and compose wherever inspiration takes you.
Digidesign's Mbox 2 Micro will be available in the next couple of weeks at authorized deals for $279. More information on the Digidesign Mbox 2 Micro.