Aphex Debuts Model 454 Headpod
Aphex is now shipping its headphone distribution amplifier, The Model 454 HeadPod. The 454 is a professional 4-output headphone distribution pod with four independent stereo power amplifiers. Working with any headphone type, the HeadPod aims to provide headroom to avoid clipping; designed for low distortion and wide frequency response capabilities, the Model 454 also promises longer listening sessions without listener fatigue.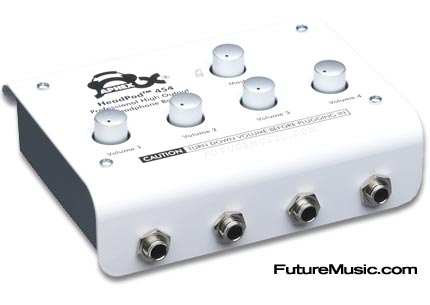 Features:
• Professional Monitoring for all headphone types
• Individual volume controls
• High headroom (no clipping at high headphone levels
• Durable metal jacks
• Ultra low distortion & wide frequency response
• Master volume to match source level
• Ultra low crosstalk Works from any analog source
• Listen longer with less fatigue
• Overcomes limitations of typical headphone outputs
• Four independent stereo power amplifiers
• Small size
Individual volume controls are provided for each of the four headphone outputs, made with Neutrik metal jacks. A master volume control on the HeadPod allows for matching of source levels. It connects to any analog source, with a rear-panel selector switch to choose between balanced sources (discrete left and right) and unbalanced sources (e.g., stereo on TRS from a headphone amplifier).
The Aphex Model 454 HeadPod costs $199 and is available now. More information on the Aphex Model 454 HeadPod.